If you've ever admired the beautifully organized pantries on cooking shows, we've got some ideas for you. According to the Lemon Bowl, pantry organization has many minor advantages. Making home-cooked meals is more enjoyable to prepare and gives you more control over which snack foods are readily available for kids to grab in a hurry.
On the other hand, those are more akin to extras; side effects of organization, if you will. The main advantages affect your grocery bill and space utilization, which saves money and reduces clutter.
Here are three ways to organize your pantry that can help you the most.
1-Maximize Your Space With Pantry Organization
The most crucial reason to organize your pantry is to make space for everything that needs to be stored. A standard pantry with bare shelves doesn't do much to maximize or organize your available space; it's only the bare minimum, and you can do much better.
Fixed shelves are rarely as practical as they should be. Adjustable shelves are required because you cannot modify the opening for tall boxes, large multi-packs, or unusually shaped platters, resulting in significant wasted space. Choose a personalized approach with adjustable shelf spacing. This approach allows for a broader range of storage options, such as a built-in Lazy-Susan that rotates and keeps items, labels, and ingredients easily visible and accessible. Another option for saving space is to store canned goods in the room behind a door or other tight areas with shallow shelves. A custom layout can include slots for trays or serving pieces, a rack for hanging tablecloths with a drawer above for storing napkins, roll-out baskets, and even wine cubbies. That is smart storage!
Use space-saving solutions like turntables or tiered shelves in the pantry.
Have you ever had to dig through your cabinet so every part of it could be easily accessible? It's pain behind, especially if there are some tall shelves back there. Turntables and tiered racks solve this problem by letting us use our pantry depth for things like condiments while still having easy access at eye level! A turntable on top is perfect – no more reaching around too far down or sorting through various sections when we can see what needs attention immediately without even needing to get up off. We recommend adding one as soon
2-The Pantry Reduces Spoilage for Food
Food waste is at an all-time high, with staggering figures. The Food and Agriculture Organization of the United Nations estimates that the global volume of food waste is 1.6 billion tons of "primary product equivalents." The total water lost or wasted each year in the food production process is equivalent to the annual flow of Russia's Volga River, or three times the volume of Lake Geneva. The direct economic consequences of food waste (excluding fish and seafood) are estimated to be around $750 billion annually.
We can all help by setting aside some time each week to organize and go through our pantry. You will save money by not purchasing duplicate items and avoid waste by not having to discard expired products. A well-organized pantry allows you to rotate objects to the front, reducing the likelihood of something being forgotten in the back. Dry ingredients should be stored in rigid containers such as glass, hard plastic, or metal to ensure maximum shelf life. Grain, dried fruit, cereals, pasta, and flour can all be stored in glass jars. Consider housing items such as energy bars, chocolate, crackers, and nuts in rigid plastic containers. Coffee, spices, tea, and noodles are all excellent ideas for tins. Most foods will have a longer shelf life if kept in the freezer.
Use labels to keep track of expiry dates and products in the pantry
Labels are a great way to ensure you never worry about whether or not your food has gone wrong, and they also help identify which ingredients went into each product. With this easy-to-use label system in place, it will be much easier for everyone on the team (including myself) at home!
3-Free up Space in Your Kitchen With Pantry Organization
Reach-in pantries may not be significant, but a better organization can free up more space. Instead of storing infrequently used (but adored) small appliances in base cabinets or on the counter, a great pantry organization system can assist you in tucking some of those items away in a less visible area. That's a massive help in the kitchen, especially if you're short on cabinet space. Roll-outs can be used to store bulky items such as tablecloths and trays.
You may also discover that there is room for things you never imagined. This is particularly true in a walk-in pantry. How convenient would it be to have an inside cart where you could set down grocery bags instead of unloading them on the floor? A large overhead rack can hold oversized stock pots and that wok you keep promising to use one day without interfering with the rest of the pantry. Many kitchen utensils have a notch on the handle that allows them to be stored on racks, freeing up counter space and drawer space.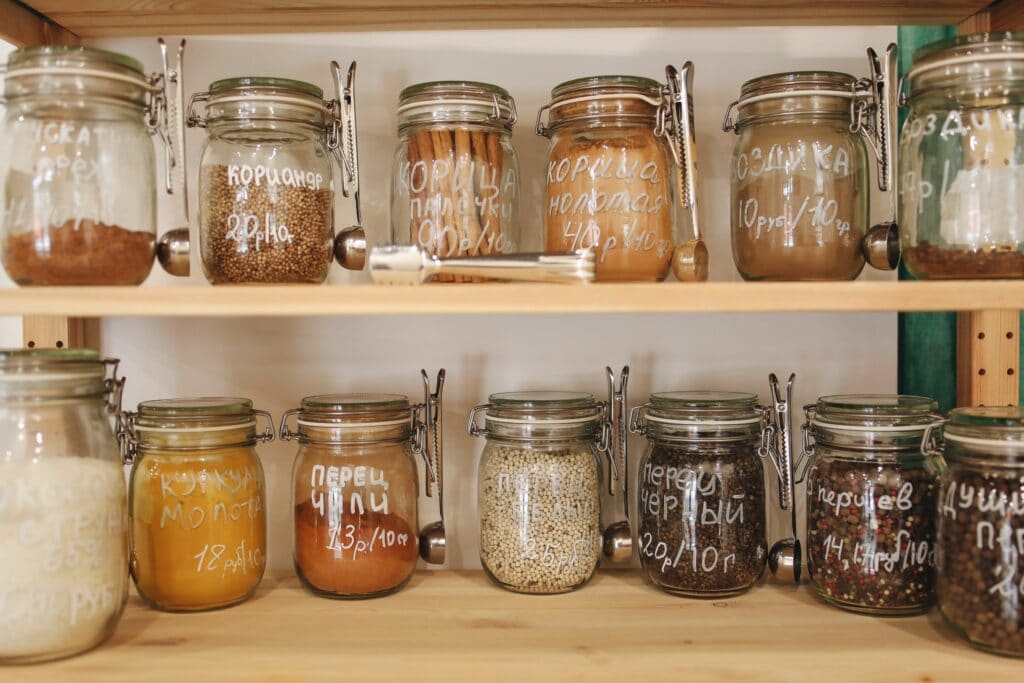 Pantry organizers of the generic type are plentiful. On the other hand, a custom-designed organization system is like magic for your kitchen and can be realized on a budget. A new pantry can do almost anything, from clever corner shelving, wine racks, and slide-out drawers to linen storage and adjustable shelving. And because it's all custom designed for your home, you'll get the exact (and only) dimensions you require at a reasonable price. View more of our pantry design ideas.
How often should you organize your pantry?
If you take the time to go through your pantry every few months or so, it will be easy for grocery shopping in case any food goes bad. This way, there's less waste!
What is the purpose of kitchen organization?
Organizing your kitchen can be a daunting task. The first step in managing the space is deciding what you want to order it for, whether that's just storage or if there are specific tasks like cooking dinner, prep work, etc. Once these things have been established, then creating categories will become easier because everything falls into their respective category making finding items quicker than ever before
How can I organize my pantry without buying anything?
When you're done organizing your pantry, it will look like a grocery store! The critical step in this process is using appropriate storage containers for the items being stored. For example, open bags of chips can go on one shelf with a paper towel or cereal boxes used as cups if need be; In contrast, canned food goes into another sectional container set up expressly according to its category: vegetables (bundles), fruit( cans), meats & seafood, d et. c.…
Baskets from around the house work well, too – make sure they'll hold their weight before adding more stuff.
What is the best way to organize a pantry?
The best way to organize a pantry is by categorizing your items. Group similar items together such as canned goods, baking ingredients, snacks, and spices. Use clear containers for dry goods like pasta, cereals, and grains so you can easily see what's inside. Label all containers for easy identification. If possible, install shelving that can be adjusted to accommodate items of different heights. Lastly, store frequently used items at eye level for easy access.
How do you organize a healthy pantry?
Organizing a healthy pantry involves focusing on nutritious food options. Dedicate sections for whole grains, nuts and seeds, legumes, canned vegetables and fruits, and lean protein sources like tuna or chicken. Keep a stock of healthy cooking ingredients such as olive oil, spices, and herbs. Clear containers or baskets can be helpful to group similar items together. Also, placing healthier options at eye level can encourage better food choices.
How often should you organize pantry?
The frequency of pantry organization depends on how often it's used and the number of people in the household. However, a general rule is to do a quick check every week when you do your grocery shopping to remove any expired items and add new purchases. A deep clean and re-organization can be done every 3-6 months. This involves taking everything out, cleaning the shelves, and assessing each item before putting it back in an organized way.
Experienced Executive Assistant with a demonstrated history of working within the furniture industry. Skilled in furniture styling, visual communication, project management, and proficiency with Adobe Creative Suite. Strong arts and design professional with a (BA) Creative Direction for furniture design focused on Industrial Design from School of the Art Institute of Chicago.