Reach-in Closet Designer in Your City
• Local & Family Owned Company
• 50+ Years Experience
• 4500+ Happy Customers
• High Quality Material Standards
Reach-in Closet Designer in Your City
• Local & Family Owned Company
• 50+ Years Experience
• 4500+ Happy Customers
• High Quality Material Standards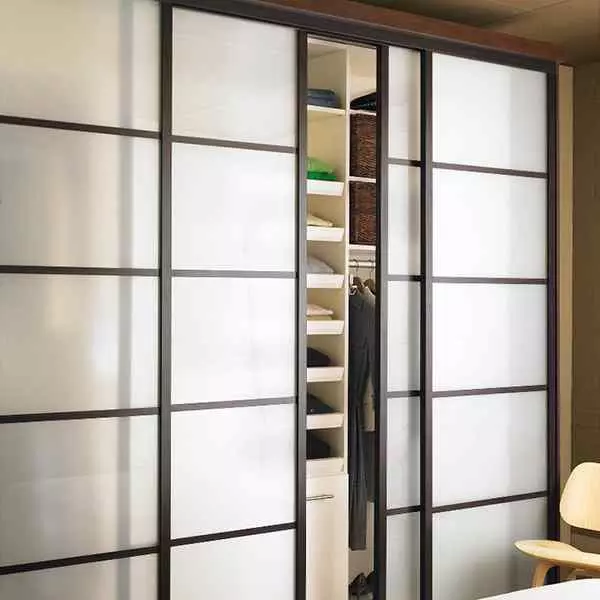 Our aluminum and sliding doors are the perfect way to give your space a modern look and feel. Plus, our doors are easy to install and come in a variety of finishes to match your existing décor.
Design your own reach-in closets with rich color options. With a variety of wood veneers, colors and textures to choose from, we can help you create the perfect closet system for your needs.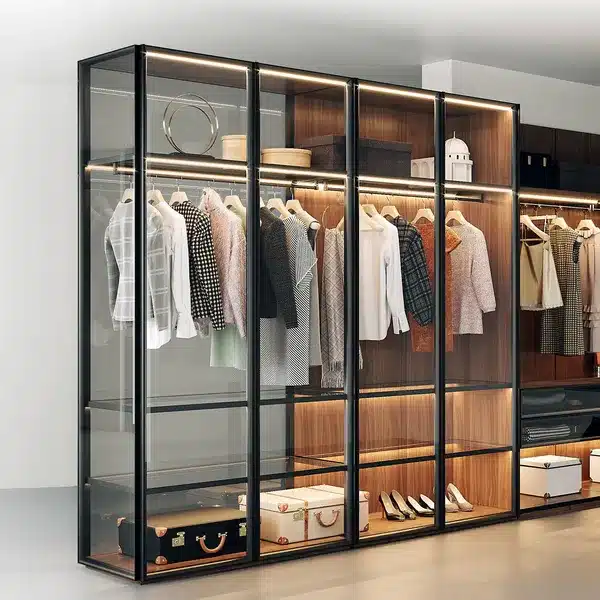 Upgrade your reach-in closet with our selection of tempered, transparent, bronze and black glass. Our glasses are made from the highest quality materials and can be customized to fit your unique needs.
Soft leather drawer inserts add a touch of luxury, while the spacious design makes it easy to find what you're looking for. Choose from a variety of finish options to create the perfect closet for your home.
With our high quality finish options, you can be sure that your dream reach-in closet will become a reality. No matter what your style is, we have a finish option that will suit you.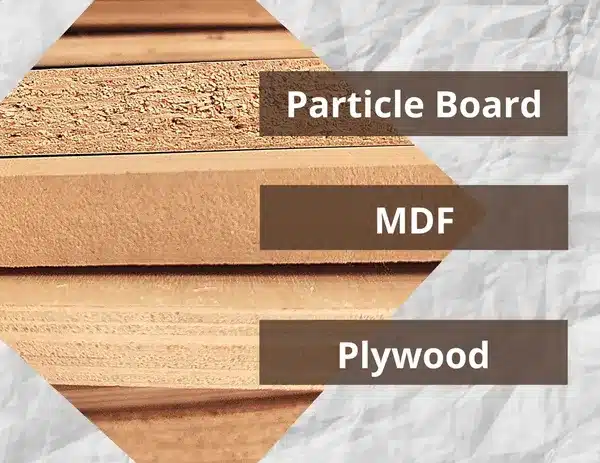 We Use MDF Not Particle Boards
Bienal closets are made with high-quality MDF, not particle boards. This means your closet will last longer and look better.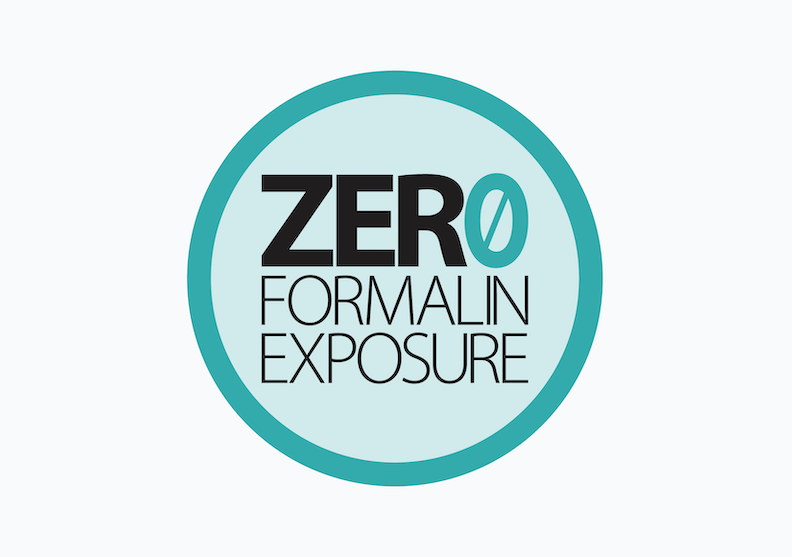 We Ensure Your Safety
Bienal Closets manufactures safe reach-in closets. The amount of formaldehyde in our MDF products are well below the standard percentage and in coordination with safety regulations.
8 - 10 Weeks Delivery
Get your new reach-in closets in just 8 - 10 week with Bienal Closets. Our professional installation team will have your space looking and functioning beautifully in no time.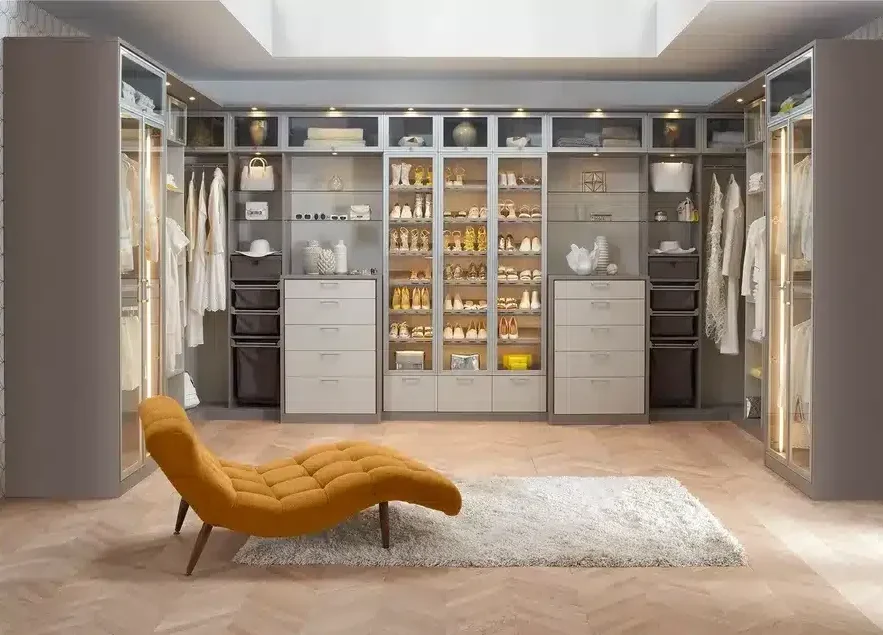 Our lights are designed to improve the functionality of your closet while also providing a stylish touch. And with our easy-to-install design, you'll be able to enjoy your new lights in no time.
Our line of high-end closet accessories is designed to make your space more functional and stylish.
How We Plan Your Custom Reach-in Closets
Storage Capacity for Your Space
During the design process for your reach-in closet, you'll want to start with a two-fold plan that considers both storage items and the amount of space. A designer is well-equipped to help you begin this process because it can be hard at first.

First, you'll want to figure out what clothes you have that you want to put in your closet. Ask yourself what your new system will be used for before you buy it. Will your new space only have space for shirts and sweaters, or will it also have to be big enough to hold tailored suits that need to be hanged?
Functional Closet Spaces
Reach-in closets are all about being valuable and maximizing space. Your designer will help you look at the area you're working with and help you devise a well-thought-out plan based on their experience and the size of the wall closet. Whether you live in a small house or have a lot of space, you can still make your wardrobe look great. Based on the area you have for your wall closet, your designer will help you make changes.
Ergonomic Reach-in Closet Design
With an ergonomic reach-in closet design, you'll no longer need to rummage around on the floor or bend down just get your shoes. The organization will help keep things tidy while also making it easier for people who use these spaces with minimal effort!
Wide Range Reach-in Closet Accessories
Closet accessories organizers can help you keep your closet neat and organized. From shoe racks to belt holders, we have various types that will work for any need! So scroll down below or click here now if reading this article was helpful.
Limitless Closet Extras
Be sure to consider how you can make your closet more functional or aesthetically pleasing by hanging molding or LED lights. Freshly painted walls can also be very fashionable! We can do many things with mirrored doors, from enhancing beauty to providing usability. There aren't many storage solutions that can match the demands of the various individuals.
Consultation
You can request a free in-home consultation or video chat with our designers to learn more about how we work and what we can provide.
3D Design & Estimate
After the initial meeting we will provide a 3D model of your closet design and a cost estimation before we start manufacturing.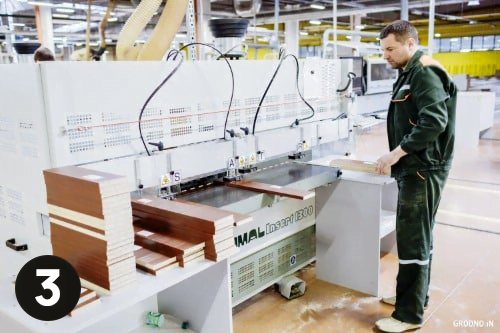 Top Quality Production
We use the finest materials in coordination with safety regulations from experienced suppliers.
Professional Installation
Our team consists of professional installers that will assemble your dream closet right up.
Bienal company did an excellent job building my reach in closet. Their reach in closet system is top of the line and their reach in closet design is very stylish. I would highly recommend them to anyone looking for a great reach in closet company. Thank you Bienal!
If you're looking for a beautiful and functional reach-in closet system, look no further than Bienal. They offer top-notch design consultation services to ensure that your new closets are everything you dreamed of.
Bienal did several reach-in closets for me and they did an amazing job. They were able to maximize the storage in the closet and make use of every inch of space. I highly recommend them for anyone looking for a great reach-in closet system.
"Bienal designed 1 of the 10 most beautiful–and functional–closet systems around."

"Not like your typical closet company, we are amazed."

"Handles the full closet remodel from start to finish."

"Sit back while neglected storages are remade."
"Reimagined the home renovation experience"
Frequently Asked Questions
A reach in closet is a type of hanger that is designed to allow a garment to hang at a greater height than traditional closet hangers. This is often beneficial for items that are bulky, such as jackets or coats. Reach in closets can be found in a variety of sizes and styles, making it easy to find one that fits your needs. Some reach in closets even come with additional features, such as shelves or drawers, which can further increase their utility. If you are looking for a way to maximize the space in your closet, a reach in closet is definitely worth considering.
Depending on the space, you will need different doors for your custom closets. A choice that can also be made depending on taste or design. Sliding doors are suitable for confined spaces; the most economical folding doors and folding ones are intermediate solutions.
Sliding doors for reach-in closets
Sliding or sliding doors are optimal for tight spaces. They only need a depth of 10 centimeters to place the guides, representing a significant space saving. In addition, they are very aesthetic and easy to open and close.
They travel through a rail system and do not require much maintenance. As advice, choosing higher-quality mechanisms is critical to ensure better resistance and conservation.
This type of sheet for the fronts of reach-in closets does not usually have measures more significant than one meter wide by two and a half meters long. In addition, you can choose multiple finishes and colors to combine with the rest of the room.
Swing doors for custom reach-in closets
Choosing swing doors for your reach-in closets is a cheaper option. They are usually two feet wide, and eight feet high, so more space is needed.
The opening mechanism of this type of closet is much simpler than sliding doors. You have to worry that the hinges are of good quality and that you have enough space to open them. Keep in mind that the normal is about eighteen inches.
Folding door reach-in closet
This type of door offers an intermediate solution to the two previous models. The size is similar to the hinged doors but has guides on the top and bottom. In this way, the sheets fold when opening and extend when closed.
The minimum dimensions for a reach-in closet are 36 inches wide by 22 inches deep. A standard one would be wider and more profound, with room to spare (36″ x 24″). Suppose you often plan on storing heavy clothing like coats or boots here. In that case, we recommend increasing its depth from 22″ and making sure there's plenty of space outside both sides so customers can enter without bumping into anything when entering/exiting theirs.Creating a reach-in closet that functions well for your needs requires careful measurements and planning. By understanding the minimum dimensions for this type of closet, you can ensure your space works well for storing everything from light seasonal clothing to heavy coats and boots. Keep in mind that increasing the depth of your reach-in closet may be necessary if you plan on storing heavier items in it regularly. In addition, be sure to leave enough space on either side of the closet so people can enter and exit without issue. With careful planning, you can create a reach-in closet that meets all of your needs.
When you need to get dressed, your closet is one of the first places that come into play. Why not have a place in there for all those items? It can save time and stress! Here's some common mistakes I see from clients when it comes down their clothing racks – anything from wrong hangers placement or messy shelves which result in an inefficient space-saving opportunity right at hand…
As someone who has been organizing closets since before most people were born (my dad was sponsored byabin), here's what typically gets my attention: tight spaces between hanging clothes; cluttered bays without any organization system whatsoever ;
A reach-in closet is a great storage solution for small bedrooms or apartments. There are a few different ways to organize a reach-in closet. One option is to use shelf dividers to create separate compartments for clothing, shoes, and other items. Another option is to use baskets or bins to store items separately. This can be a good option if you want to be able to see the contents of each bin. Finally, you can use hanging racks or shelves to store items on hangers or folded clothes. This is a good option if you have limited floor space in your closet. By using one of these organizing solutions, you can maximize the storage space in your reach-in closet.
Reach-in closets must be at least 36 inches wide by 22 inches deep. A standard reach-in closet would be 36 inches wide by 24 inches deep. You should consider increasing the depth of a closet if it is used for coats, outerwear, or other bulky items to 28 inches deep.
The benefits of a custom reach-in closet are that you can make the most out it by choosing an elegant design and installing plenty space for storage. With some creativity, these closets may even serve as functional spaces in your home where clothes stay organized while they wait to be worn again!
When considering the cost of a reach-in closet, it is important to keep in mind that there are many factors that will affect the final price. The size of the closet and the type of materials that are used will be the two biggest factors. If you want a high-end reach-in closet with all of the bells and whistles, you can expect to pay closer to $2,500. If you are working with a smaller space and budget, it is still possible to create a functional and stylish reach-in closet for around $600.
The best way to get an accurate estimate for your custom reach-in closet is to contact a local closet company or designer. They will be able to assess your space and needs and provide you with a detailed quote. Be sure to get quotes from multiple companies so that you can compare prices and services. With a little bit of planning, you can easily find the perfect reach-in closet solution for your home without breaking the bank.
So, why do you need to call in a professional designer?
One reason is that most people's wardrobe storage needs and design tastes vary widely. So if your home doesn't fit all of the boxes into one closet or space, then it makes sense not just from an aesthetic point of view but also when considering how easy they are use as well! Having custom closets designed transforms generic looking spaces with endlessly challenging manageability issues into aesthetically pleasing highly organized areas where everything can be found easily at hand without having any wasted flooring because there won't even BE ANY WASTED FLOORING
Closet pullouts come in various forms – like shoe racks, pant hooks or tie/scarf holders. The shallow stationary ones on the closet floor can make it hard to find your shoes when you need them because they're right under where all of our clothes are stored together! A better solution? Organize yours by putting up angled shelves with protective guards so that each pair has its own space; this way we'll always know which one goes with what outfit instead of looking around aimlessly trying desperately not lose any more time than necessary while searching " misplaced" footwearIf you have a smaller space for storage in your closet, pullouts and additional accessories can help keep all of those outfits organized. They add style as well!
Closet laundry hampers are an excellent way to get rid of those plastic bins and make your closet more organized. They come with a removable cloth bag that you can throw all dirty clothes into when it's time for washday, rather than having them jumbled up in various places around the house or office space where they may be difficult (or impossible)to access during bus rides home from work!
The average reach-in closet is six-feet long, eight-feet high, and 24-inches deep with an 80-inch high door opening. However, the depth of the closet may vary depending on the size of the room and the amount of storage required. For example, a smaller closet or one that is used for linen storage may only be 18-inches deep. A larger closet intended for clothing storage may be up to 30-inches deep. The dimensions of reach-in closets can also vary depending on the manufacturer. Some companies make shallower closets that are only 20-inches deep, while others make deeper closets that are up to 36-inches deep. Ultimately, the depth of the reach-in closet will be determined by the needs of the homeowner.