Custom Craft Room Designer in Your City
• Local & Family Owned Company
• 50+ Years Experience
• 4500+ Happy Customers
• High Quality Material Standards
Custom Craft Room Designer in Your City
• Local & Family Owned Company
• 50+ Years Experience
• 4500+ Happy Customers
• High Quality Material Standards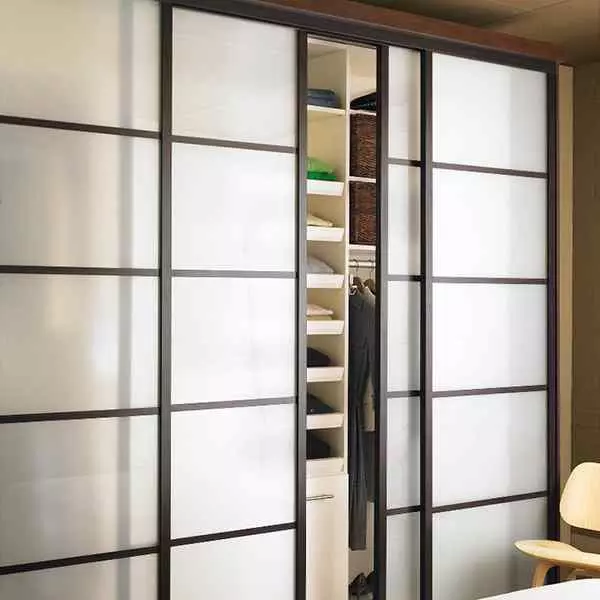 Give your craft room a modern look and feel with our aluminum and sliding doors. Our doors are easy to install and come in a variety of finishes.
Design your own craft room with rich color options. We have a variety of wood veneers, colors and textures to choose from to customize your closet system.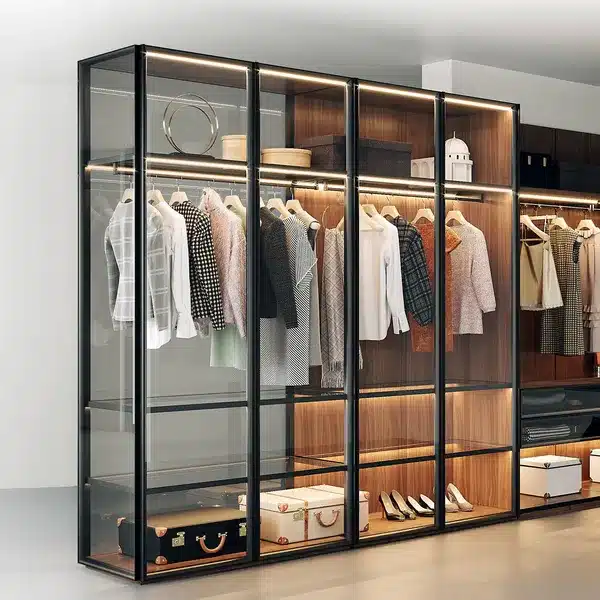 Add a touch of luxury to your craft room with our selection of tempered, transparent, bronze and black glasses.
Soft leather drawer inserts add a touch of luxury to craft room closet, with rich color options to choose from.
With our high quality finish options, you can be sure that your dream craft room closet will become a reality.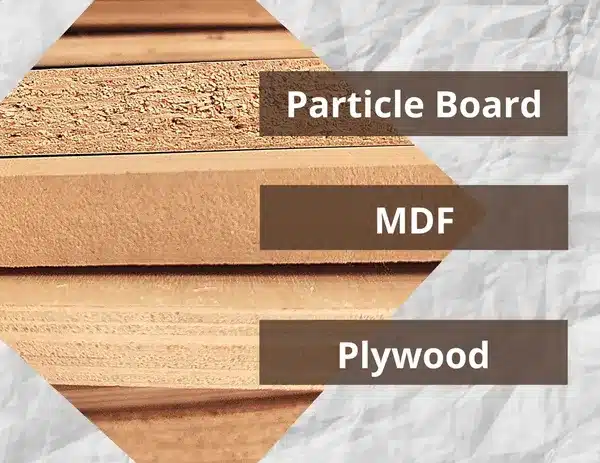 We Use MDF Not Particle Boards
Bienal Closets are made with MDF, not particle boards, ensuring your closets will last a lifetime. Shop now for the perfect closet for your craft room.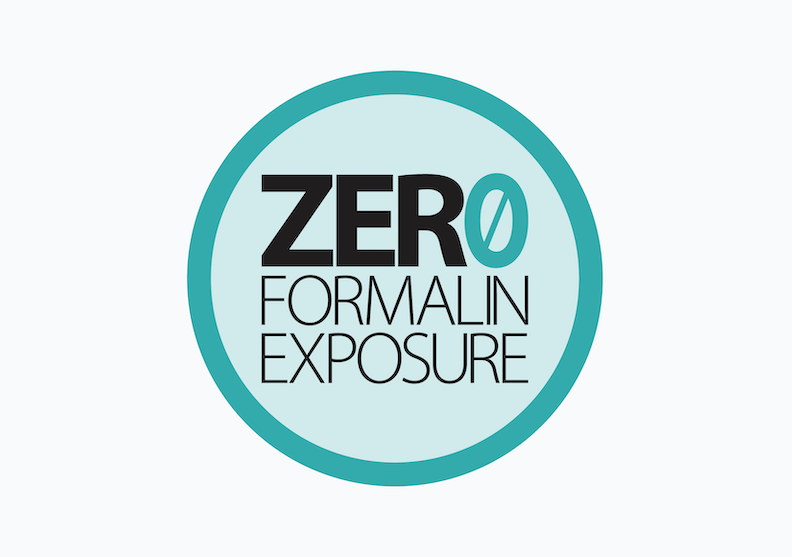 We Ensure Your Safety
Looking for a safe and reliable craft room storage solution? Look no further than Bienal Closets. Our MDF products are well below the standard percentage of formaldehyde and in coordination with safety regulations.
8 - 10 Weeks Delivery
Get your craft room closets delivered in just 8 - 10 weeks with Bienal Closets. We specialize in custom closets and can have your new space organized in no time.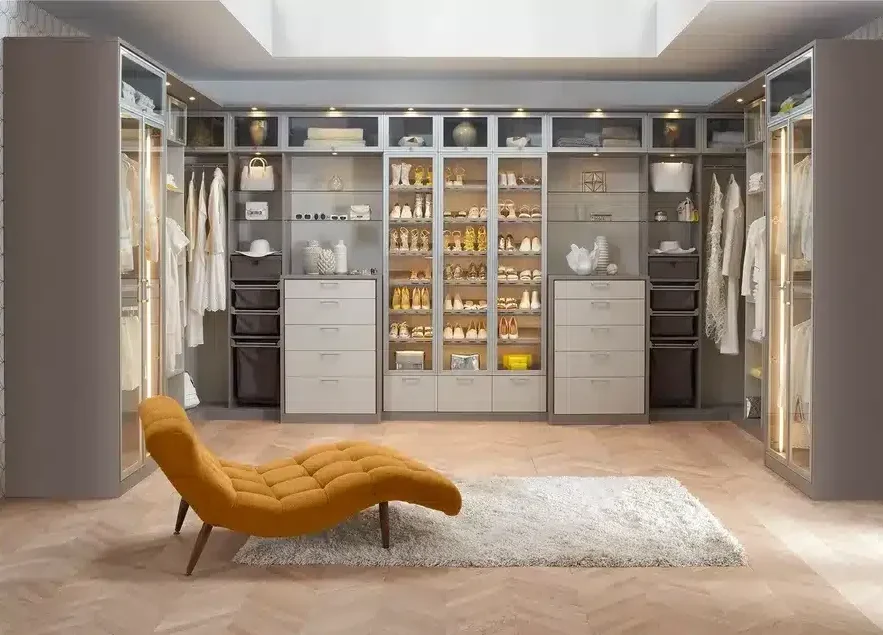 Our lights are designed to improve the functionality of your closet while also providing a stylish touch. And with our easy-to-install design, you'll be able to enjoy your new lights in no time.
Our line of high-end closet accessories is designed to make your space more functional and stylish.
Design Your Custom Craft Room
Perfect Craft Room Designs Layouts
We start by assessing your needs. What kind of crafts do you do? How much stuff do you need to store? We then take a look at your space and come up with a custom design plan that make the most of your available square footage. Once we have a plan, we get to work building custom shelves, cabinets, and other craft room storage solutions that are both stylish and practical. And because we're working with you directly, we can easily incorporate any special features or requests you may have.
Creative Craft Room Furniture
Looking for the perfect furniture for your craft room? Look no further than our selection of Bienal Craft Room Furniture! We offer a variety of pieces to help you create the perfect space, including desks, chairs, and shelving units. All of our furniture is stylish and functional, so you can create a space that's both comfortable and stylish. Our desks are available in a variety of styles and sizes to suit your needs, and our chairs are comfortable and stylish.
Rich Craft Room Cabinets
Looking for high quality craft room cabinets? Look no further than us! We produce top of the line craft room cabinets that are perfect for organizing your space. With our cabinets, you'll be able to easily find what you need and keep your craft room looking tidy. Our cabinets are also very sturdy and well-made, so you can rest assured knowing that your belongings are safe and sound.
Craft Room Closet Organization
A craft room should be a haven where you can go to let your creativity flow. But too often, it ends up being a cluttered space that's more stressful than inspiring. Bienal Custom Closets can help you change all that with our beautiful and functional craft room organization solutions.
Craft Room Storage Design Ideas
Craft Room Storage solutions are the perfect way to organize your space and make it work for you. If you're looking for a creative and practical way to organize your craft room, our Craft Room Storage solutions are perfect for you! We offer a variety of storage options that are designed to fit your specific needs. From wall-mounted shelves to floor-standing cabinets, we have a solution to help you get the most out of your space.
Consultation
You can request a free in-home consultation or video chat with our designers to learn more about how we work and what we can provide.
3D Design & Estimate
After the initial meeting we will provide a 3D model of your closet design and a cost estimation before we start manufacturing.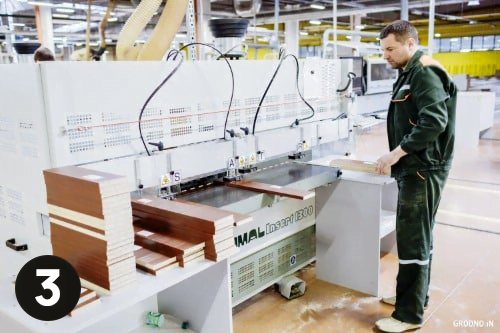 Top Quality Production
We use the finest materials in coordination with safety regulations from experienced suppliers.
Professional Installation
Our team consists of professional installers that will assemble your dream closet right up.
This business is amazing! They have everything you could possibly need to create the craft room of your dreams. The staff is super friendly and helpful, and they were able to help me find exactly what I was looking for. I highly recommend this business!
If you're in the market for a well-organized craft room, look no further than Bienal Closet. They can create a custom solution tailored to your specific needs, and their craft room organizers are top-notch. I couldn't be happier with the results!
I absolutely love Bienal Closet for my craft room! The quality and construction of the cabinets are top notch and the installation was super easy. The craft room looks amazing and has so much storage space. I would highly recommend this company to anyone looking for quality custom cabinetry.
"Bienal designed 1 of the 10 most beautiful–and functional–closet systems around."

"Not like your typical closet company, we are amazed."

"Handles the full closet remodel from start to finish."

"Sit back while neglected storages are remade."
"Reimagined the home renovation experience"
Frequently Asked Questions
There are a few things to consider when organizing a craft room: the types of crafts you do, the amount of space you have, and your own personal preferences.
First, think about the types of crafts you do. If you mainly sew, knit, and quilt, then you'll need a different type of organization than if you mainly do scrapbooking and card making.
Second, think about the amount of space you have. If you have a large room with lots of storage space, then you can be more flexible in how you organize it. But if you're working with a small room or limited storage space, you'll need to be more specific in what goes where.
A crafting room is a designated space in your home specifically for crafting activities. This can include activities such as sewing, knitting, crocheting, scrapbooking, quilting, and more. A crafting room can be as simple as a small corner of your bedroom or as elaborate as an entire room dedicated to crafting.
One of the benefits of having a designated crafting room is that it can help you stay organized and avoid clutter. It's also helpful to have a space where you can leave your materials out and ready to use so you don't have to spend time setting up each time you want to craft. Finally, having a designated crafting space can help you maintain focus and avoid distractions while you're working on your
When designing a craft room, it is important to first consider the purpose of the room. Will it be used for sewing, knitting, quilting, scrapbooking, or another type of craft? Once you know the primary use of the room, you can begin to plan out the layout and decor.
One suggestion is to dedicate one wall to storage. This could include built-in shelves, a cabinet or two, and a wardrobe for storing fabrics and other materials. Another option is to install a pegboard on one wall where you can hang tools and supplies.
In terms of flooring, choose something that is easy to clean and won't show footprints or dust bunnies. Laminate or hard
There are a few things you can do to store artificial flowers in your craft room. One option is to put them in a vase or other container. Another option is to hang them on a wall or from the ceiling. You can also put them in a box or drawer. Whichever method you choose, be sure to store them in a dry place and keep them out of direct sunlight.
There are a few things you can do to store artificial flowers in your craft room. One option is to put them in a vase or other container. Another option is to hang them on a wall or from the ceiling. You can also put them in a box or drawer. Whichever method you choose, be sure to store them in a dry place and keep them out of direct sunlight.
There are many ways to organize a home office craft room, but the most important thing is to make sure that everything has its own place and is easy to find. Here are some tips:
Start by sorting your supplies into categories (paper products, scissors, adhesives, etc.), and then create labeled storage containers or shelves for each category. This will help you stay organized and avoid confusion.
Use clear plastic containers or jars so that you can see what's inside them without having to open them up. This will save time when you're looking for a specific item.
Make use of vertical space by installing shelves or hooks on the walls to store supplies or hang tools.
There are a few things to consider when trying to make the most of a small craft room. First, try to use vertical space as much as possible. Hang shelves and cabinets high up on the walls, and use baskets and bins to store supplies on the floor.
Second, make use of every inch of counter space. Install a fold-down table or wall-mounted desk to create more workspace, and choose storage solutions that offer multiple purposes. For example, a storage cabinet with shelves and fabric drawers can serve as both storage and a work surface.
Finally, don't forget about lighting. A well-lit space is essential for any kind of crafting activity.