Entertainment Center Designer in Your City
• Local & Family Owned Company
• 50+ Years Experience
• 4500+ Happy Customers
• High Quality Material Standards
Entertainment Center Designer in Your City
• Local & Family Owned Company
• 50+ Years Experience
• 4500+ Happy Customers
• High Quality Material Standards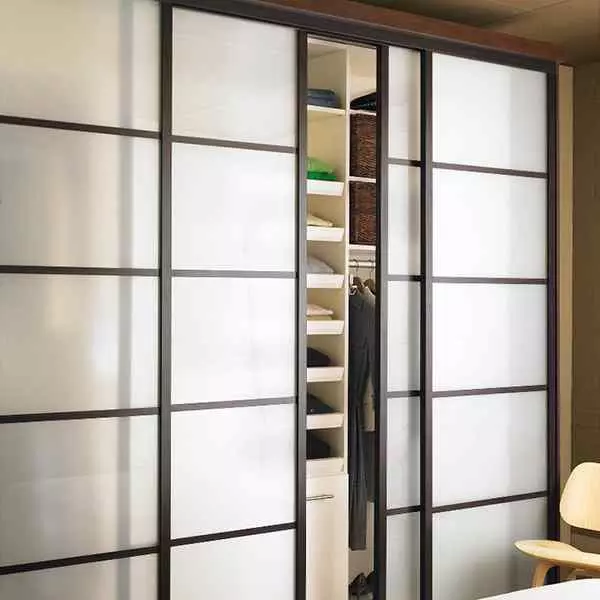 Transform your entertainment center with our aluminum and sliding doors. Our easy-to-install doors come in a variety of finishes to match your existing décor.
Modern entertainment centers with rich color options. Design your own entertainment center by choosing from a variety of wood veneers, colors and textures to create the perfect custom closet system for you!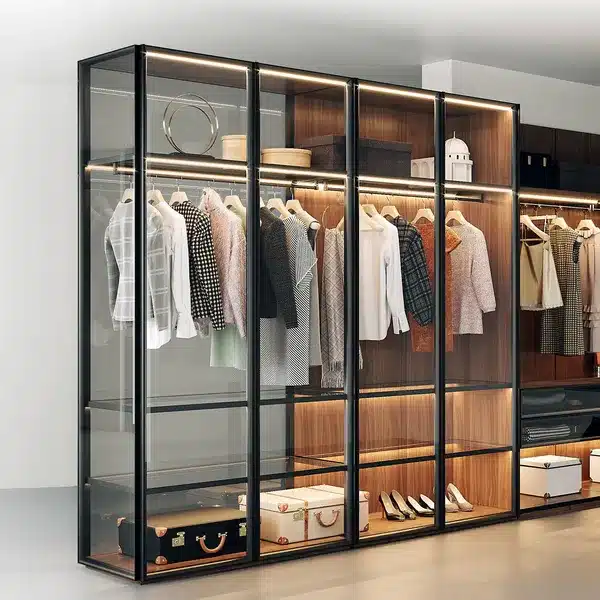 Bienal Closets offers a wide selection of tempered and transparent glass for your entertainment center. Choose from black, bronze or clear glass to get the right look for you.
Soft leather drawer inserts add a touch of luxury to your entertainment center. With plenty of space, it's easy to find what you're looking for.
With our high quality finish options, you can be sure that your dream entertainment center will become a reality. No matter what your style is, we have a finish option that will suit you.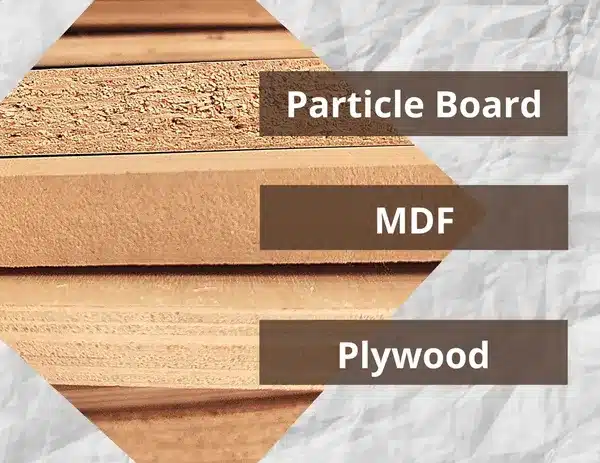 We Use MDF Not Particle Boards
We use MDF, not particle boards, for our closets so you can be sure your closet will stand the test of time.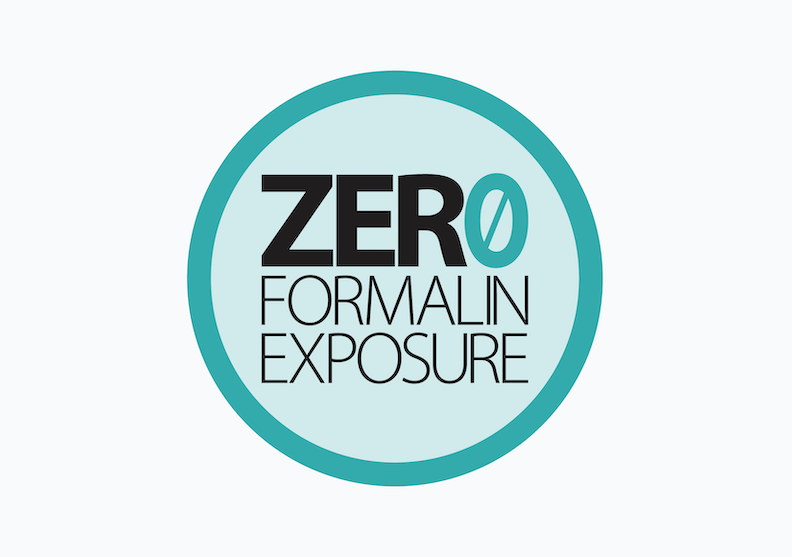 We Ensure Your Safety
Bienal Closets focus on providing top quality products and services to their customers. Their mission is to help homeowners improve the storage of their homes.
8 - 10 Weeks Delivery
We can deliver your new closets in just 8 - 10 weeks, so you can start enjoying your newly organized space sooner.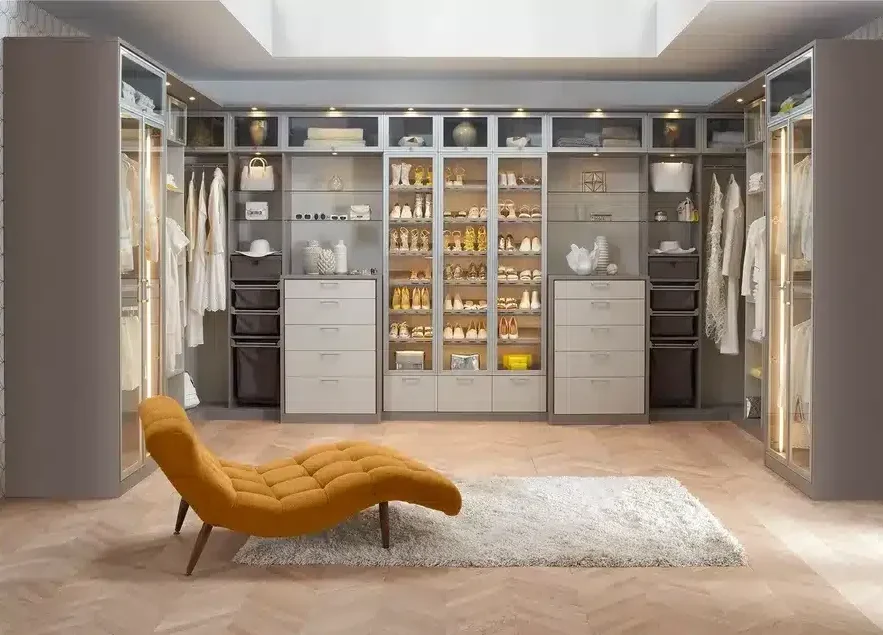 Our lights are designed to improve the functionality of your closet while also providing a stylish touch. And with our easy-to-install design, you'll be able to enjoy your new lights in no time.
Our line of high-end closet accessories is designed to make your space more functional and stylish.
Completely Tailored For Your Entertainment Center Needs
Stylish Entertainment Storage
Each of our custom home entertainment centers comes with plenty of cabinet space, drawers, and shelving for everything you need for your media center! Built-in cabinets are great places to store CDs, DVDs, and games, as well as places to hide ugly speakers.

Your designer can help you choose from various freestanding or built-in styles in rich wood tones that will look good in both modern and traditional homes. You can buy entertainment centers that will fit any room of your house because we use the best design techniques.
Functional & Exciting
Make sure your home's hub for entertaining looks like a place where you can store your audio and video equipment, but it doesn't have to. Our designers will help you make a modern entertainment center that can be made to look like a home theater, a display cabinet, a library, and more. Whether you want melamine or custom-stain finish, decorative doors, or floating shelves doesn't matter. Our designers will help you make your entertainment center functional and exciting on a budget.
Rich Entertainment Center Accessories
The products we sell are more than just a few nice extras. They are also helpful. In addition to being beautiful, they are also useful, which is essential for your project to go well. The right tools make it easy to find, use, and store everything.
Entertainment Center Finishes
The art is in the small things. During your in-home design meeting, your designer will show you our embellishments, finishes, and accessories. They will also show you how to make your closet look even better. Featured items are just a tiny taste of what we have to offer.
Entertainment Center Embellishments
The unique Swarovski crystal pulls will make doors and drawer fronts look more elegant and classy. None of the things that make things look better than faceted Swarovski crystals in various styles. You can choose from a wide range of handles and knobs to match the style of your home.
Consultation
You can request a free in-home consultation or video chat with our designers to learn more about how we work and what we can provide.
3D Design & Estimate
After the initial meeting we will provide a 3D model of your closet design and a cost estimation before we start manufacturing.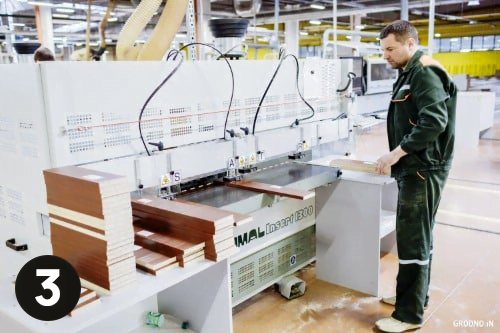 Top Quality Production
We use the finest materials in coordination with safety regulations from experienced suppliers.
Professional Installation
Our team consists of professional installers that will assemble your dream closet right up.
Bienal build my new entertainment center and I couldn't be happier! It's stylish, well-built, and exactly what I wanted. The whole process was easy and stress-free. I would highly recommend Bienal to anyone looking for a new entertainment center. Thanks again, Bienal!
I am very happy with my new entertainment center that was built by Bienal. It looks great in my living room and I am very satisfied with it. I would highly recommend their services. I am very pleased with their workmanship and would recommend them to others.
I found Bienal online when I was looking for a custom entertainment center. I was very pleased with the results. The unit looks great in my living room and was made to my specific measurements. The price was also very affordable. Overall, I highly recommend Bienal if you are looking for a custom entertainment center.
"Bienal designed 1 of the 10 most beautiful–and functional–closet systems around."

"Not like your typical closet company, we are amazed."

"Handles the full closet remodel from start to finish."

"Sit back while neglected storages are remade."
"Reimagined the home renovation experience"
Frequently Asked Questions
Super-fast broadband. If you're going to be using your entertainment room for gaming, streaming, or other activities that require a lot of data, you're going to need a super-fast broadband connection. Otherwise, you'll likely be frustrated with buffering and lag.
A large flat-screen television. Of course, you're going to need a place to watch all of your favorite shows and movies. A large flat-screen television is the perfect option for this. You can also use it to play video games or hook up a gaming console.
Dimmable lights. Ambient lighting can really set the mood in a room. If you want to be able to create different atmospheres in your entertainment room, dimmable lights are a must.
A comfortable couch or recliner. After a long day at work, you're going to want to relax in your entertainment room. A comfortable couch or recliner is the perfect way to do this. You can kick back, relax, and watch your favorite shows or movies in comfort.
A sound system. If you want to really enjoy your entertainment experience, a sound system is a must. This will allow you to immerse yourself in the action and feel like you're right there in the middle of it all.
If you're looking to add a little bit of fun to your life, consider building an entertainment room on a budget. It's a great way to enjoy some down time and relax after a long day. In this blog post, we will discuss some tips for how to build an entertainment room on a budget. We'll also provide you with some ideas for what you can put in your entertainment room. So let's get started!
The first thing you'll need to do is decide what kind of entertainment room you want. Do you want a place to watch movies? Play video games? Listen to music? Once you've decided on the purpose of your room, you can start planning your budget.
Next, you'll need to think about what kind of furniture and equipment you'll need for your entertainment room. If you're planning on watching movies, you'll need a TV and a comfortable place to sit. For gaming, you might want a gaming console and some comfortable chairs. And for music, you might want a stereo system and some speakers.
Once you've got your furniture and equipment sorted out, you'll need to think about decorating your room. This is where you can really let your personality shine through. Choose a theme for your room and go from there.
And that's it! These are just a few tips for how to build an entertainment room on a budget. With a little bit of planning and some creativity, you can easily create a space that you and your friends will love. So what are you waiting for? Get started today!
The entertainment center is an excellent way to add value and save space in your home when accommodating all of the personal effects you need. Whether it's for cable box or just some games, having one built-in will provide something that lasts with plenty more storage than prebuilt furniture can give off so don't settle! 
What you should know before building your own entertainment center is the size and materials used. If it's going in a small space, like my bedroom for example (I'm not sure what kind of person would want this), then consider using modular kits that are easy to put together but still look good!
With a 10′ x 10′, built-in entertainment center you can have your TV and games at the same time. These units come in different materials with various design options to suit any room's look, as well as labor costs for installation or custom designing it if needed!
The entertainment center of your dreams can be installed for about $4,470 including labor with prices ranging from 3 380-5 560 in the US according to How Much. This cost will depend on size and materials but overall you're looking at something between 5% – 7%.
There are a lot of factors to consider when choosing the best TV unit design for your home. Size, shape, and style are all important, but you also need to think about functionality. How will you use the TV unit? What features do you need? And what kind of aesthetic do you want in your home? In this comprehensive guide, we will walk you through everything you need to know about TV units so that you can make the best decision for your needs.
When it comes to size, you need to think about both the width and height of the unit. The width should be proportionate to the size of your TV, and the height should be based on how you want to use the unit. For example, if you want to use it for storage, you will need a taller unit. But if you just want to display your TV, a shorter unit will be fine.
Shape is another important consideration. TV units come in all sorts of shapes, from square and rectangular to more unique shapes like oval and curved. Think about the shape of your TV and the shape of your room when choosing a unit. You want something that will fit well in the space and that will complement the other furniture in the room.
Style is a personal preference, but there are a few things to keep in mind. TV units can be traditional or modern, and they can be made from a variety of materials like wood, glass, or metal. Consider the style of your home and choose a unit that will fit in well.
Functionality is an important consideration, especially if you plan on using the unit for storage. TV units can have shelves, drawers, or doors to help you keep your things organized. Choose a unit with the features you need so that you can make the most of it.
Finally, think about the aesthetic of your home. TV units come in all sorts of styles, so you should be able to find one that fits in with the overall look and feel of your home. Consider the other furniture in the room, the color scheme, and the overall design aesthetic when choosing a unit.
With these tips in mind, you should be well on your way to choosing the best TV unit design for your home. Just take your time, consider all of your options, and choose something that you love. You'll be happy you took the time to find the perfect unit for your needs. Thanks for reading! We hope this guide was helpful. If you have any questions, please feel free to contact.
A reach-in closet is a great storage solution for small bedrooms or apartments. There are a few different ways to organize a reach-in closet. One option is to use shelf dividers to create separate compartments for clothing, shoes, and other items. Another option is to use baskets or bins to store items separately. This can be a good option if you want to be able to see the contents of each bin. Finally, you can use hanging racks or shelves to store items on hangers or folded clothes. This is a good option if you have limited floor space in your closet. By using one of these organizing solutions, you can maximize the storage space in your reach-in closet.
Do you have a big blank space in your living room that needs to be filled? Why not try building an entertainment center! This step-by-step guide will show you how to create a custom entertainment center that will perfectly fit your needs. We'll go over everything from choosing the right materials to assembling and painting the finished product. So what are you waiting for? Get started on your new entertainment center today!
Building an entertainment center can be a daunting task, but we'll make it easy for you with this step-by-step guide. The first thing you need to do is choose the right materials. We recommend using plywood or MDF for the frame of your entertainment center, and then adding a veneer or laminate to give it a nice finish. You'll also need to choose the right hardware, like hinges and drawer pulls, to complete the look.
Once you have all of your materials, it's time to start building! Cut your plywood or MDF into pieces that will fit together to create the frame of your entertainment center. Be sure to measure twice and cut once to avoid any mistakes. Once the frame is assembled, you can add your veneer or laminate. Then it's time to install your hinges and drawer pulls.
And that's it! Your new entertainment center is now complete. All that's left to do is sit back and enjoy your handiwork. Congratulations on a job well done!
Do you have any tips for building an entertainment center? Share them with us in the comments below!
Do you have an entertainment center that needs a little bit of sprucing up? Maybe you just moved into a new place and the entertainment center is looking a little bare. Or maybe you've had the same entertainment center for years and it's time for a change. No matter what your reason may be, this blog post is for you! We will provide tips and ideas on how to decorate your entertainment center in a way that is both stylish and functional. So read on to learn more!
One way to decorate your entertainment center is to add a pop of color. This can be done by adding a colorful piece of art above the television or by placing a vase with fresh flowers on one of the shelves. If you want to go for a more festive look, you can string up some lights around the frame of the entertainment center. Another way to decorate your entertainment center is to make it more personal. This can be done by adding family photos or mementos from your travels. You can also add books or magazines that reflect your interests. If you have a lot of movies, you can create a movie library by lining them up on the shelves. Whatever you decide to do, make sure that it reflects your personal style!
There are endless possibilities when it comes to decorating your entertainment center. So take your time and experiment until you find a look that you love. And don't be afraid to change things up from time to time. After all, your entertainment center should be a reflection of who you are and what you love. So have fun with it!
Do you have any tips or ideas on how to decorate an entertainment center? We would love to hear from you in the comments below!
It is vital that the colour you select matches the décor of the room and doesn't affect the viewing experience. Choose an attractive colour if the décor of the room is fashionable, or choose a low-key colour if the décor of the room is quiet.