Organizing your closet can be exciting and transformative, impacting not only how you store your belongings but also the entire look of the room. Whether you live in a New York City apartment or have a walk-in closet in a suburban home, you can revamp and style it with fresh ideas to maximize storage space!
In this blog post, we'll explore creative ways to achieve an organized closet featuring modern designs that will redefine your home organization.
Ready to get started? Read on for some tips and inspiring images that will help make any wardrobe look well-organized and stylish at the same time!
Invest in a Stylish Wardrobe Rack to Instantly Update Your Closet Space
If you're looking for modern closet ideas to revamp your space, investing in a stylish wardrobe rack is a great place to start. Not only will it instantly update the look of your closet, but it's also a practical solution for keeping your clothes organized.
A sleek, minimalist rack can provide a unique focal point in the room, while a more ornate option can add a touch of elegance. Whatever your style, a wardrobe rack is a versatile and functional piece that can elevate your closet space and make getting dressed in the morning a little more enjoyable.
Modern Closet Design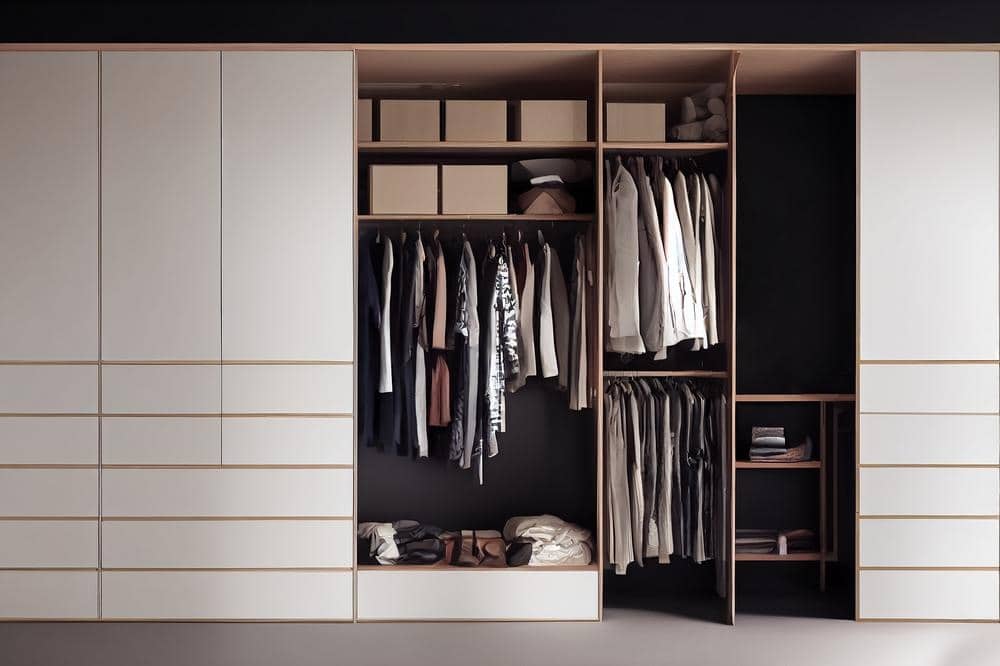 Modern closet design is an essential aspect of interior design and organization. A well-designed closet can save space, time, and energy while also bringing order and beauty to any other room.
By using top shelves, adjustable rods, and pull-out drawers, you can maximize storage space and create a functional, stylish closet that fits your unique needs. A modern closet can be customized to accommodate different types of clothing, accessories, and shoes, providing easy access and convenience.
Measure and Take Inventory of Your Clothing to Make Sure You Have the Right Size Wardrobe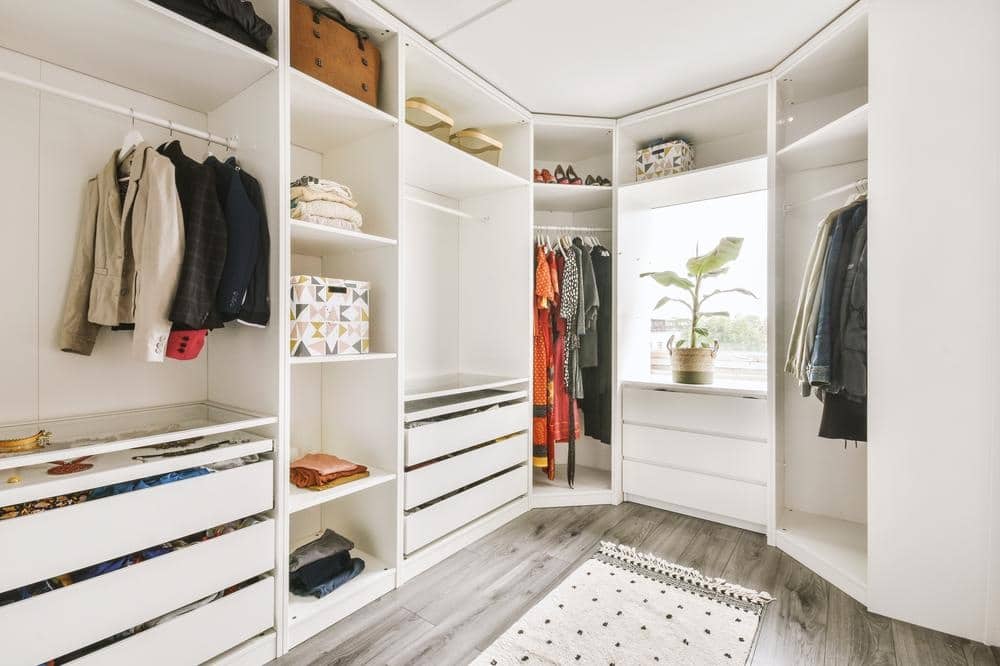 Having a modern closet is the ultimate goal for many fashion-conscious individuals. The dream of being able to walk into a spacious and neatly organized area, only to find all your most treasured outfits in one spot is a source of satisfaction.
However, to achieve this level of organization, it is important to take inventory of your clothing items regularly. Knowing what you have will help you plan what you need, and the right size wardrobe will ensure you have adequate space to store your clothes.
A walk-in closet is the most ideal as it gives you enough room to hang your clothes and store shoes and accessories. Don't let a cluttered wardrobe ruin your fashion sense; take control of your modern walk-in closet and achieve that dream closet you've always wanted.
Go for Minimalistic Look and Use Only Necessary Hangers – Wooden Hangers if Possible!
Walking into a modern closet design can be a treat for the eyes, especially when the doors leading up to it are sliding glass doors. However, cluttered and overstuffed closets can quickly ruin the aesthetic appeal of the space.
To achieve a minimalistic look that is both stylish and functional, it is best to use only the necessary hangers. Wooden hangers, in particular, add an element of elegance to the closet while ensuring that clothes stay organized and easily accessible.
By investing in high-quality hangers and only using what is needed, you can transform your closet from a chaotic mess to a serene and beautiful space.
Consider Installing a Closet System With Plenty of Shelves, Drawers, and Hanging Space
If you're tired of digging through piles of clothes every morning or constantly rearranging your shoe collection, it's time to consider installing a built-in closet/wardrobe system. With ample storage in the form of shelves, drawers, and hanging space, you can finally achieve the organization you've been dreaming of.
And with so many great modern closet ideas to choose from, you can customize the design to fit your exact needs, whether that be a designated spot for your jewelry or a built-in laundry hamper. If you opt for gray cabinets, your closet will not only be practical but also trendy.
Store Seasonal Clothes in Transparent Boxes With Labels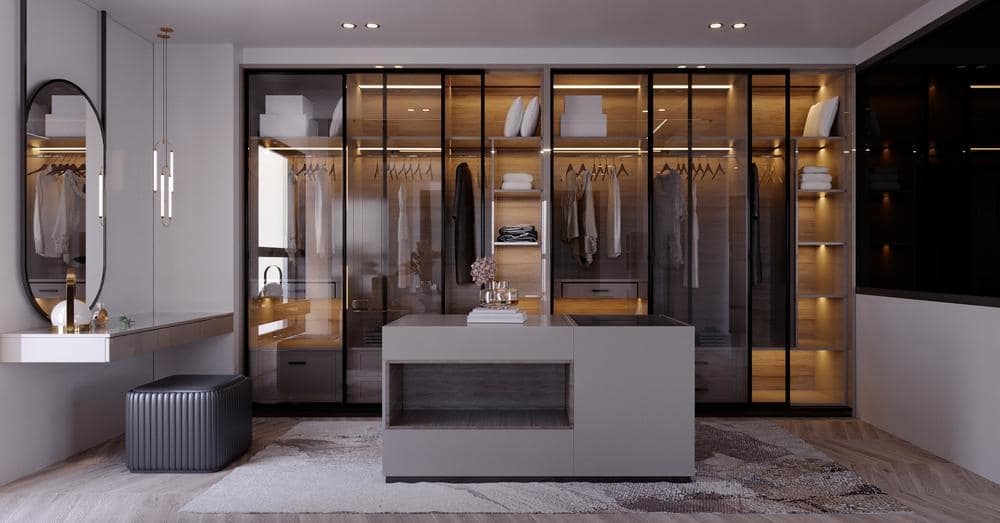 Have you ever found yourself rummaging through piles of clothing, searching for a specific sweater or jacket that you *know* you put away somewhere? It's a frustrating experience that many of us have had. But what if I told you there's a way to avoid that headache altogether?
Consider investing in some transparent storage boxes and labeling them with the specific season. You can store these boxes in built-in cabinets or on wall hooks for easy access. Imagine being able to see exactly what you're looking for without having to dig through stacks of clothing.
Organize and keep your seasonal clothing neat to save time. Plus, with glass doors or transparent boxes, you'll be able to admire your wardrobe even when it's not in use. So why not try this simple tip and make your life just a little bit easier?
Use Cloth Baskets or Storage Bins to Store Accessories, Out of Sight but Within Easy Reach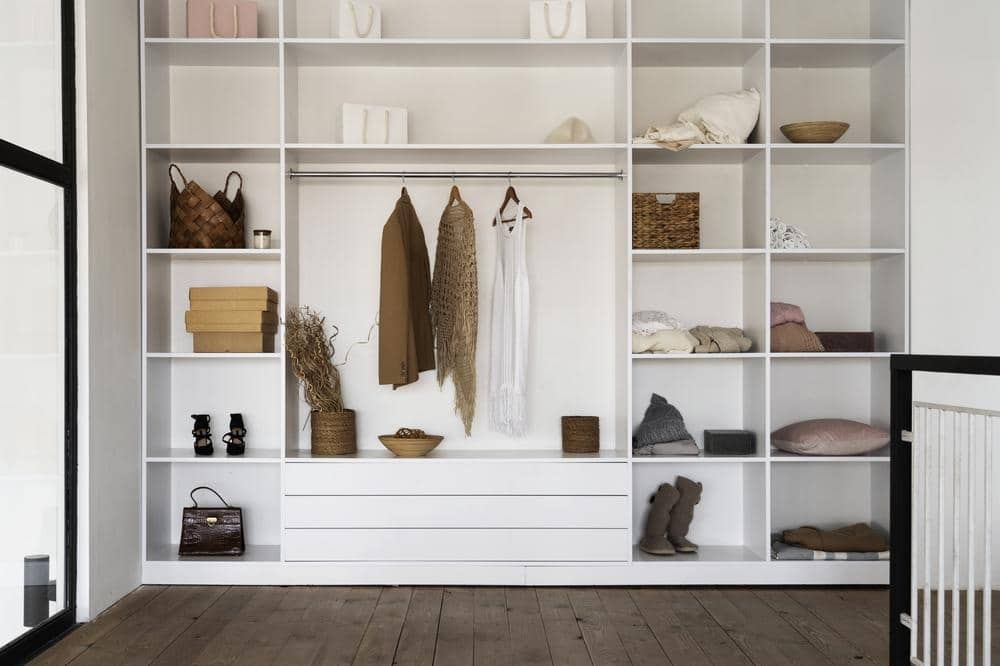 Keeping your accessories organized can be a challenging task, especially if your living space is limited. However, using cloth baskets or storage bins can save you both space and time when it comes to storage.
You can rest assured that your shoes and bags will be kept organized and readily available. Imagine the convenience of having all of your accessories in one place without cluttering your living space!
Combine this with a set of recessed lights and white cabinets for a clean, minimal look that perfectly accentuates your new storage solution.
Modern Closet
When it comes to modern closet design, white cabinets, and LED lighting are two key elements that transform a typical storage space into a luxurious oasis. The clean, crisp finish of white cabinets creates a sleek and sophisticated look, while the LED lighting enhances the organization and functionality of the closet.
From illuminating shelves to guiding the way to your favorite pair of shoes, LED lights take the modern closet to the next level. A modern, well-designed closet can increase the value of your home and simplify your daily routine by making it easier to select your outfits.
Modern Closet Ideas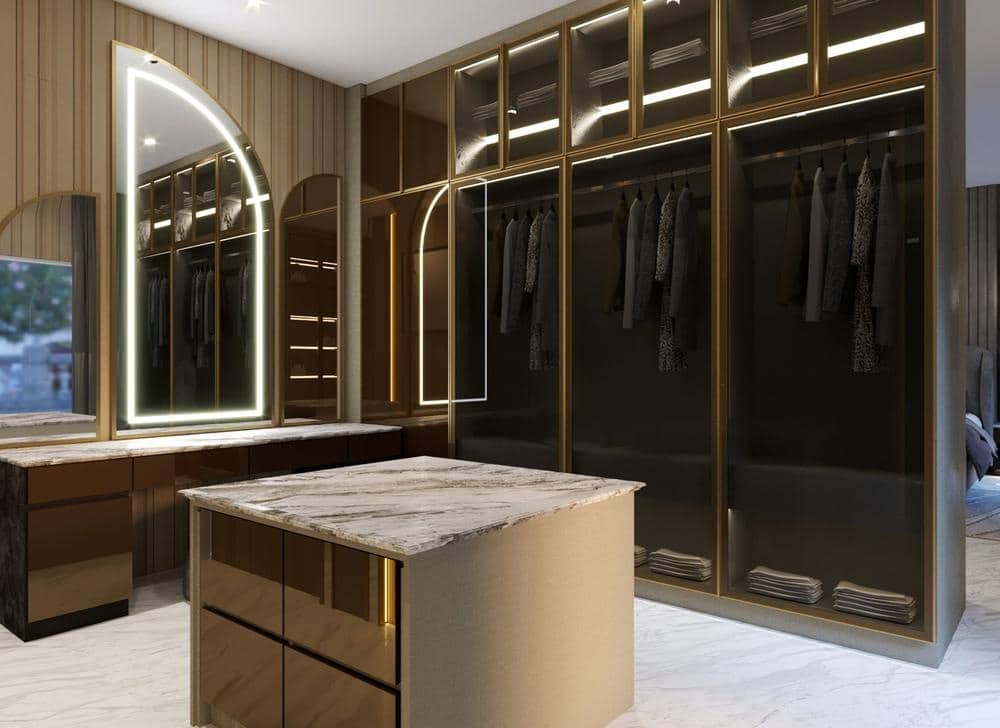 Modern closet ideas have revolutionized the way we view storage spaces in our homes. A well-designed closet can not only declutter your room but also add a touch of elegance to your overall interior design. One of the best things about modern closet ideas is their versatility in design and functionality.
They can be integrated into virtually any other room of your home, saving space while also complementing the existing style. Incorporating top shelves into your closet design is a great way to maximize storage and keep your items organized.
Modern Closet Design Ideas
In the world of interior design, there's no doubt that the closet has evolved from being a tiny storage space into a room that deserves attention and consideration in its design.
A well-designed modern closet is more than just a convenient place to put your clothes – it's an extension of your personal style and an architectural statement in itself. From custom finishes to automated lighting, modern closet design ideas are abundant and awe-inspiring.
Luckily, we offer fantastic inspiration and tips to help you create a closet that is both functional and fashionable.
Modern Closet Door Ideas
Closet doors are an essential feature of any space dedicated to storage and organization. While closet doors may be perceived as a functional necessity, they can also add to the overall aesthetic of a house.
With the rise of modern and minimalistic home design, elegant closet door ideas have become increasingly popular. From sliding doors with frosted glass panels to barn-style doors with sleek hardware, there are several stylish options to choose from.
Additionally, incorporating drawers into your closet doors as a unique and practical feature can save space and further streamline your storage system. Don't overlook the potential design impact closet doors can have on your home.
Modern Walk in Closet Ideas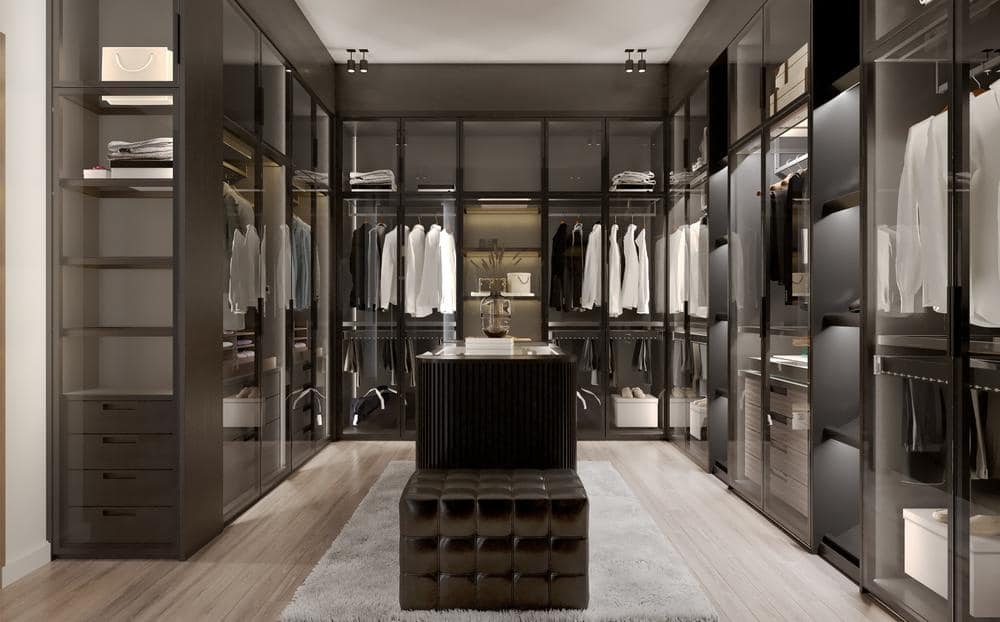 Homeowners look for more ways to organize their belongings efficiently. Modern walk-in closet ideas offer innovative and creative storage solutions that are both functional and aesthetically pleasing.
Custom shelving systems and built-in walls can be used to optimize every inch of closet space. In addition, these closets allow homeowners to showcase their clothes in an organized and accessible manner.
The well-organized storage also leads to less clutter, making it easier to find everything you need quickly.
Modern Built in Closet
Say goodbye to outdated and boring wardrobes and embrace the fashion-forward style and functionality of a modern built-in closet. The perfect addition to any bedroom, a stylish closet not only elevates the aesthetic of your space, but also maximizes your storage and keeps your belongings organized.
Whether you prefer sleek and minimalist designs or luxurious and ornate finishes, the possibilities are endless with a custom built-in closet. Discover the beauty of tailored storage solutions and transform your space into a fashion-forward haven. Trust us, your wardrobe (and your sanity) will thank you.
Modern Bedroom Closet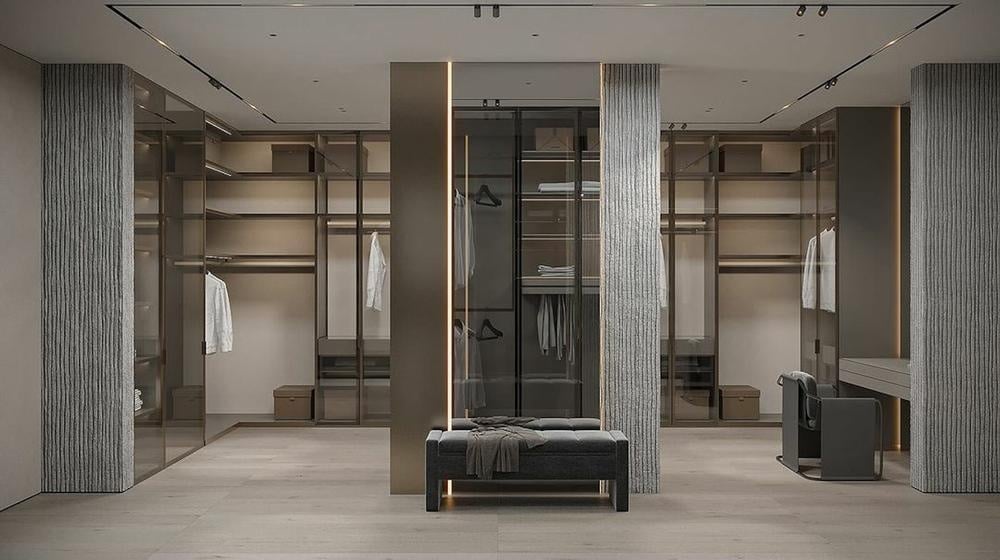 A modern bedroom closet is the epitome of functionality and style. From shoes to clothing and accessories, it's the perfect storage space for all of your fashion necessities. The innovative design provides ample space with convenient lighting options that allow you to easily store and access your items.
Adding sleek doors to your modern bedroom closet creates a chic aesthetic that enhances any room's decor. Say goodbye to clutter and hello to convenience with a professionally designed modern bedroom closet that maximizes your storage space and provides you with a functional storage solution.
Modern Bedroom Closet Design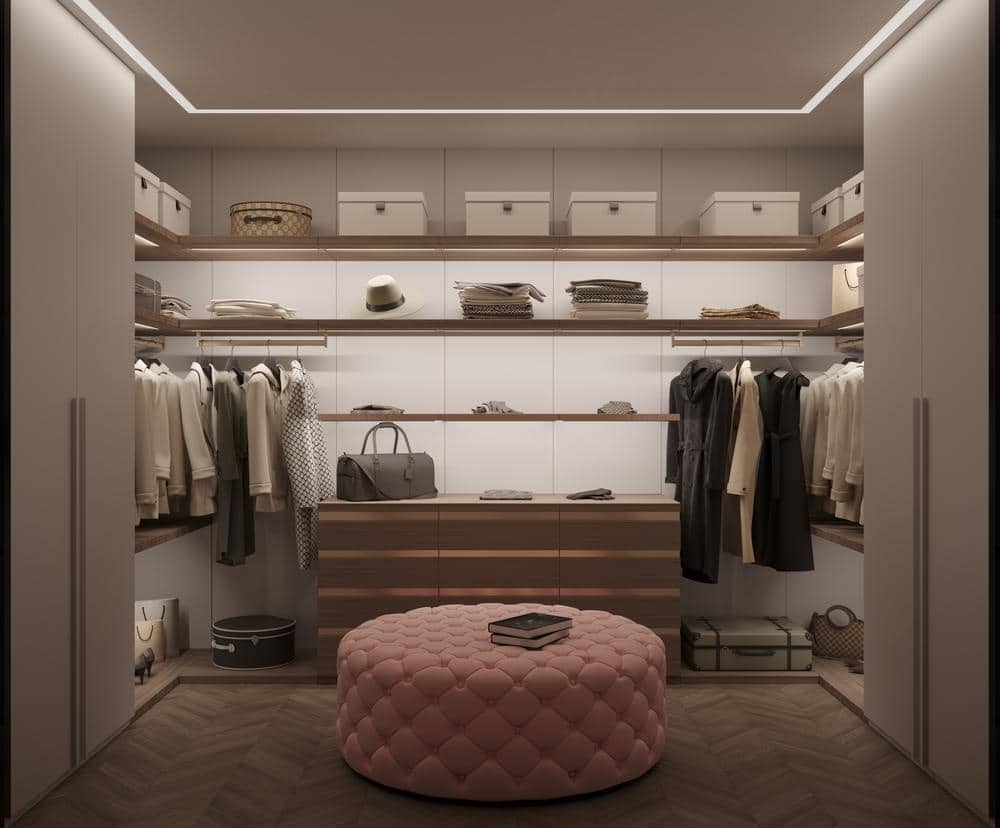 In the world of modern bedroom closet design, there's no shortage of stylish solutions to meet any taste. From sleek shelving to innovative storage accessories, the possibilities are endless. However, the most important factor to consider is the functionality of the space.
With floor storage solutions and space-saving designs, the modern bedroom closet can be optimized to suit any lifestyle. Whether your needs require more hanging space or ample shelving options, there's a design that can meet all of your requirements.
Modern Bedroom Closet Ideas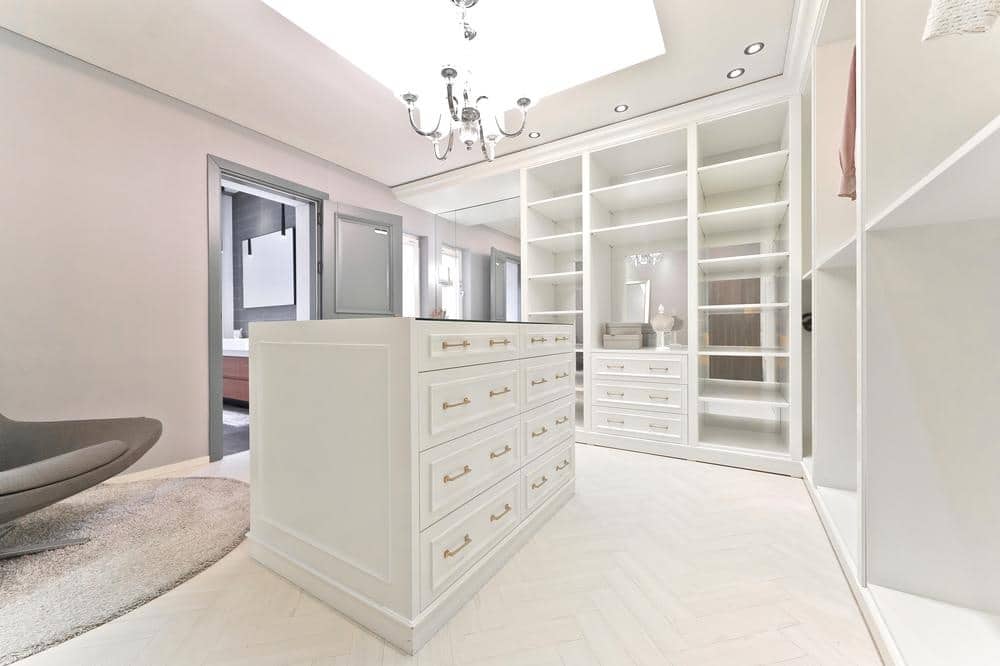 The bedroom closet is a vital part of any modern home, and home decorators and interior designers are always on the lookout for new and innovative ideas to make the most of the available space.
From custom wardrobes and smart storage solutions to flooring and ceiling options, the possibilities are endless. With a little planning, your bedroom closet can be transformed into a stylish and functional pantry that will meet all your storage needs .
Forget the uninviting and dull storage areas that you may have experienced in the past. Instead, let your decor and imagination run wild as you take advantage of the latest modern bedroom closet ideas.
Modern Master Bedroom Closet Ideas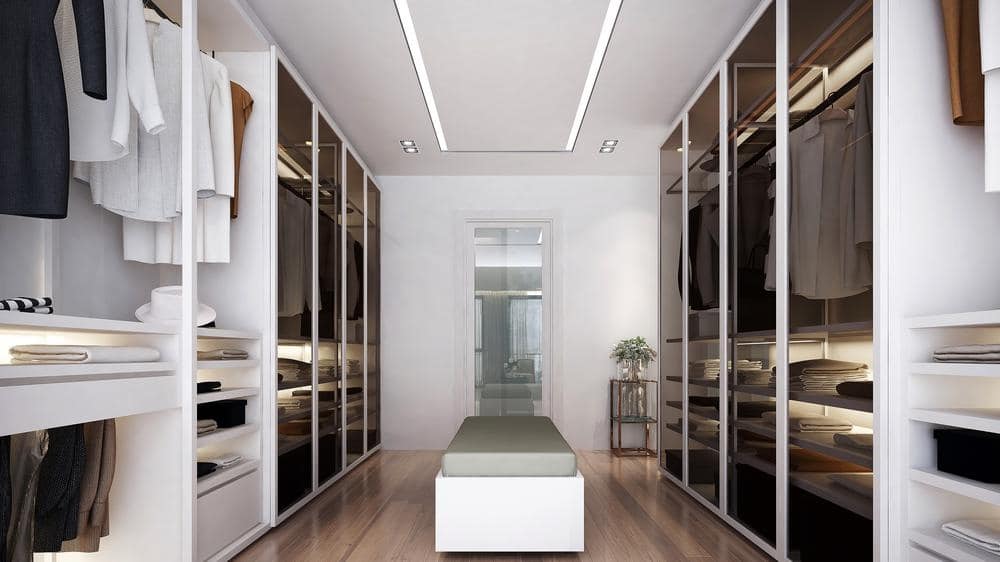 When it comes to modern master bedroom closet ideas, there are a multitude of factors to consider. For starters, the space must be functional yet visually appealing. An island in the center can help with organization, while ample storage allows for easy access to clothing and accessories.
It's also important to mention the need for jewelry storage, which can easily be incorporated with drawers or hanging organizers.
Modern Entryway Closet Ideas
As more and more people seek to streamline their living spaces, entryway closets have become an important focal point in modern home design. The right closet can do more than store shoes and coats—it can set the tone for the entire interior of your home.
When thinking about modern entryway closet design, consider adding curtains to hide unsightly clutter, using elegant mirrored doors to double as decorative accents, and maximizing storage space by hanging items on hooks or shelves.
By prioritizing organization and aesthetics in your entryway closet, you can create a welcoming and functional space that sets the tone for your whole home.
Modern Open Closet Ideas
Modern open closet ideas are essential for stylish storage and organizing your wardrobe. Traditional closets can be cluttered and unmanageable, but open closets provide an airy and convenient alternative. This contemporary concept optimizes space and utilizes the room's entirety, allowing for more storage and less mess.
Imagine having your best outfits on full display on the shelves with your favorite handbag resting on a vanity in the center. With a walk-in closet, you'll feel like a celebrity walking down the red carpet, but in your own home. The use of unique tiles can also complement the sleek, minimalist aesthetic, creating a modern look perfect for any decor.
Experience the luxury of customized storage with modern open closet ideas.
Modern Wall Closet
When it comes to modernizing your closet, a wall closet is the ultimate solution. Not only does it offer ample storage space, but it also saves you the trouble of disposing of outdated, bulky wardrobes. Picture a closet that's complete with shelves, drawers, and even a chair for you to sit on while you put on your shoes.
The best part? A wall closet is an investment that will stay with you for years to come. As a professional, investing in a modern wall closet is a smart move that will enhance your everyday organization and aesthetic appeal.
Modern Closet Room
With the rise of busy lifestyles and limited living areas, maximizing individual spaces such as closets has become a necessity. Hence, modern closet rooms have been gaining popularity among homeowners. Creating a well-designed modern closet room provides individuals with the perfect balance of storage, function, and aesthetics.
It's essential to add seating in your closet room, making it feel like a space to relax and unwind after a long day. When it comes to modern closet rooms, striking the perfect balance between function and style can make all the difference.
By utilizing the right combination of design elements and materials, homeowners can create a dynamic and stylish closet space that caters to their every need.
Modern Closet Cabinet Design
The modern closet cabinet design is changing the way we think about storage solutions for our wardrobes. With an emphasis on functionality and accessibility, this design is tailored to match the needs of the modern wearer.
The combination of shelving, drawers, and hanging rods provides ample space for clothing, shoes, and accessories, all within arm's reach. Additionally, the elegant and streamlined aesthetic of these cabinets can seamlessly integrate into any room design, adding a touch of sophistication to your space.
Contemporary Closet Designs
In recent years, the trend in contemporary closet design has been towards functional and minimalistic spaces. With this style, everything should have a place, and there should be no clutter or unnecessary intricacy in design.
This closet design can be customized to fit the specific needs of a client, with features such as built-in shelving, shoe racks, and drawers. It is a simple, yet timeless approach that creates a clean and seamless flow in any space.
A contemporary closet design allows for easy access to your clothing and accessories, making it a practical and stylish addition to any modern home.
Contemporary Closet Ideas
Today's modern closets are sleek and functional, often incorporating innovative storage solutions that maximize space while enhancing the overall look and feel of the room. From minimalist designs with clean lines to more ornate closets with built-in lighting and mirrors, the possibilities are endless when it comes to contemporary closet ideas.
Whether you're looking to overhaul your existing closet or create a new one, consider incorporating elements that reflect your personal style while also staying current with the latest trends.
Futuristic Closet
The futuristic closet is an innovative solution for modern-day storage needs. This state-of-the-art technology incorporates elements of Artificial Intelligence and sleek design to provide maximum efficiency and organization.
Its smart features enable easy and customized access to clothes and accessories, as well as a comprehensive view of the user's inventory through a highly interactive interface.
Gone are the days of cluttered and disorganized wardrobes, as the futuristic closet allows for seamless integration of technology with fashion.
How do you modernize a closet?
Modernizing a closet can be done through a few simple steps:
First, consider organizing the items in your closet so that everything has its proper place and looks neat and orderly. This can be accomplished with shoe racks, hanging bars for clothing, dividers, and cubbies for folded garments, as well as storage bins or baskets to keep smaller items properly stored away.
Another great way to modernize your closet is to incorporate lighting into it. This could be anything from LED strips on the underside of shelves or even recessed lights built into the ceiling of the room that shines light directly onto your clothing selection.
Additionally, if space permits, adding mirrors can really give off an updated look while also making it easier to mix and match various wardrobe selections when getting dressed in the morning!
Finally – don't forget about décor! Adding artwork or decorative pieces like shelves with plants can give your closet an instant modern boost without having to do any major construction work!
What is the size of a modern closet?
The size of a modern closet depends on the number of items it must hold, as well as the space available for it in your home. Generally speaking, closets should be at least an arm's length deep and wide enough to open fully so you can access all your belongings without any difficulty.
If you are looking for an average closet size as a general guideline, most people require about seven to ten square feet (about 2-3 meters) per linear foot (30 cm) of hanging clothes, plus additional storage space on shelves and cubbies.
When selecting a closet size, consider how much hanging space is needed versus storage area. Typical reach-in closets start at 24 inches wide by 8 feet tall (61 cm x 2.5 m). For larger homes or walk-in closets, wall widths often range from five to eight feet (1.5 -2.4 m), with heights up to 10 feet tall (3 m).
The ideal layout includes two parts – one section for long garments such as dresses or coats and another part with shelves and drawers for folded clothing items like shirts or pants along with shoes and accessories like purses or scarves.
However, some homeowners prefer larger spaces tailored specifically to their own needs; if that's the case in your home then the sky is truly the limit when it comes to determining what type of custom design works best!
Experienced Executive Assistant with a demonstrated history of working within the furniture industry. Skilled in furniture styling, visual communication, project management, and proficiency with Adobe Creative Suite. Strong arts and design professional with a (BA) Creative Direction for furniture design focused on Industrial Design from School of the Art Institute of Chicago.