Do you have a spare room in your house that's not serving any purpose? Or perhaps a small bedroom that you don't know what to do with? You can turn that room into a closet with a little bit of creativity and planning. Here is a comprehensive guide that will help you transform your spare bedroom or room into the walk-in closet of your dreams.
1. The Concept of Converting a Room into a Closet
The idea to turn a room into a closet is not as radical as it may sound. In fact, it's a creative and practical solution to the common problem of insufficient storage space. This transformation is particularly useful in older homes, where bedrooms and closets tend to be smaller. When done correctly, the new closet can still serve secondary purposes, such as a home office or a dressing room.
2. Planning the Layout
Experiment with Different Configurations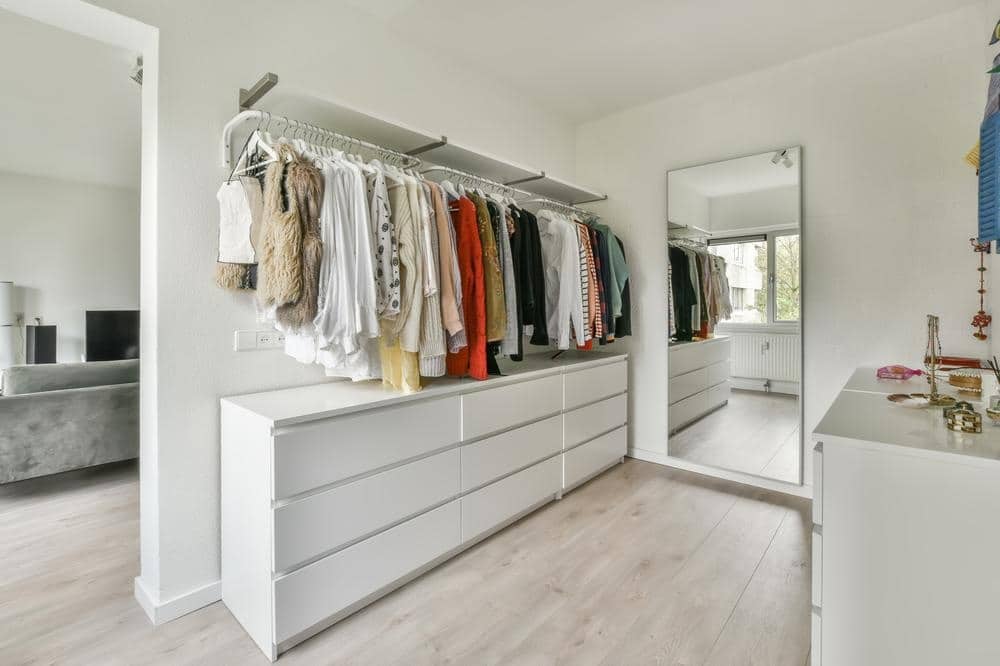 Before you start buying furniture or assembling your closet system, it's crucial to experiment with various room configurations. You can do this by using mobile clothes racks, folding tables, or bookcases to simulate your ideal layout. This step will allow you to visualize how you want to use the wall space and ensure that the entrance to your new closet is not obstructed.
Assess Your Storage Needs
To determine how much storage space you will need, take an inventory of everything in your current closet. Measure your hanging space, folded storage, and drawer space. Remember to account for clothes stored outside your bedroom if your existing closet is too small. This assessment will help you design your new bedroom closet to meet all your storage needs.
Sketch a Floor Plan
After visualizing the changes and assessing your needs, draw a basic floor plan of the room. Measure the lengths of walls and the placement of windows and doors. Depending on the space and window and door positions, your storage units can be in a single or double run, or even a U-shape.
3. Choosing the Furniture
Look for Hackable Pieces
Unless you are skilled in carpentry, it's more time-efficient to modify ready-made wardrobes, shelves, and furniture pieces. For example, consider using an affordable and versatile wardrobe system. You can make these mass-produced items look more built-in by framing the edges with millwork that matches your home's molding.
Open vs. Closed Storage
One significant decision you'll need to make is how much space for open versus closed storage you want. As a general rule, use open storage for things you want to show off or easily access, like your shoe collection. Opt for closed storage for items you don't use frequently and want to protect from light, or from wear and tear.
Utilize the Door
Don't let the door itself go to waste. You can use a barn door or a variety of back-of-door storage solutions to increase the room's functionality or add a full-length mirror to it.
4. Lighting
Since your spare room likely benefits from natural light, it's essential to be strategic about the rest of the lighting, too. Install dimmers and LED bulbs in the 3,000K range to ensure you're cast in the most flattering glow while dressing in the mirror. In a master bedroom full-size walk-in, you can also have fun with fixtures. A beautiful chandelier can create a bright and inviting dressing area.
5. Window Treatments
Most closets do not have windows, but when you turn a room into a closet, you'll almost certainly have a window around which you need to design. To create a faux built-in, place two identical wardrobes on either side of the window. For privacy, cover the window with self-adhering frosted film, which won't block daylight.
6. Seating Area
Always try to put in a window seat or at the very least, somewhere to sit and put on your shoes. A storage ottoman is a particularly good choice since it'll give you one more place to tuck things away. A seat isn't just functional, but it can also create a design focal point and make the space feel more like a luxurious dressing room than just a walk-in closet.
7. Personalize Your Space
Your closet should be a reflection of your personal style. So make sure to incorporate things that make you happy and feel good when you're in your space. This could include family photos, art pieces, or even patterned wallpaper.
8. Additional Storage Solutions
Look for simple ways to add storage without taking up much room. Wall-mounted hooks, bins, and baskets can help you organize your items better. Also, consider using smaller organizers for shelves or drawers for things like jewelry or sunglasses.
9. Accessibility
Ensure that everything in your closet is easy to access. For example, storing shoes on shelves instead of the floor can make them more accessible and help keep the floor less cluttered.
10. Making the Most of Your New Space: Turn a Room Into a Closet
Finally, consider your necessities. Do you need a clothes steamer? A full-length mirror? Perhaps a small lounge area if you'll be spending a lot of time in your closet? Think about these things as you turn your room into a closet and make it your own.
With a little creativity and careful planning, you can transform a spare room or small back bedroom closet into a functional and aesthetically pleasing walk-in closet or dressing room. Whether you need more storage space or dream of having a luxurious dressing area, this transformation can be a rewarding and beneficial project.
Turn Room Into a Closet
If you have a spare room in your home and find yourself in need of more closet space than other bedrooms, why not consider turning that room into a closet? With the right planning and the use of a well-designed closet system, you can transform an empty room into a functional and organized space for all your clothing and accessories.
A closet system is essential for maximizing storage and ensuring that everything has its designated place. By incorporating shelves, drawers, hanging rods, and other accessories, you can create your closet design a customized layout that suits your specific storage needs.
You can create a closet system that maximizes every inch of space and makes getting ready in the morning a breeze. Whether you have a small spare room or a larger one, transforming it into a closet can be a practical and stylish solution for your storage needs.
Turn a Spare Room Into a Closet
If you find yourself lacking closet space in your home, consider a turning spare bedroom or a spare room into a walk-in closet. This can be especially useful if you have an old bedroom that is not being used. With some creative organization and the use of double hangers, you can maximize storage in a small space.
By utilizing the existing shelves and adding additional ones, you can create designated areas for shoes, accessories, and clothing items. Installing a full-length mirror on one of the walls can also add functionality and make the space for shoe storage feel more like a dressing room.
With careful planning and smart storage solutions, transforming a spare room into an extra bedroom or a closet can provide you with the extra space you need to keep your belongings organized and easily accessible.
Turn a Small Room Into a Closet
If you find yourself in need of more storage space for your clothes and accessories, consider turning a small room into a closet. By utilizing the available space effectively and incorporating smart storage solutions, you can transform even the tiniest room into a functional and organized closet.
One wall of the adjacent bedroom can be dedicated to hanging items, such as clothing, while the other walls can be used for shelves and drawers to store folded clothes, shoes, and accessories. This not only maximizes the use of space but also adds value to your own home.
When it comes to resale value, a well-designed closet can be a desirable feature for potential buyers. So, instead of leaving the closet door in that small room unused, turn it into a practical and stylish closet that meets your storage needs.
Turn a Storage Room Into a Closet
When considering turning a storage room into a closet, it is important to spend time planning and organizing the space effectively. One of the key factors to consider is good lighting.
Adequate lighting is essential to ensure that the closet is functional and easy to navigate. Installing proper lighting fixtures, such as overhead lights or LED strips, can make a significant difference in the overall functionality of the space.
Incorporating well-designed shelving units can maximize storage space and enable better organization of clothing and accessories. By strategically placing shelves at different heights and utilizing adjustable shelving systems, it becomes easier to keep the closet neat and tidy.
Transforming a storage room into a closet requires careful consideration of lighting and shelving options to create a functional and organized space.
Turning a Room Into a Walk in Closet
When considering turning a room into a walk-in closet, there are several factors to keep in mind. First, it is important to assess the existing space and determine if any modifications are needed. This may involve removing or adding doors to create a seamless flow between the room and the rest of the house.
Proper lighting is crucial in a walk-in closet to ensure visibility and functionality. Installing adequate lighting fixtures, such as recessed lights or track lighting, can greatly enhance the overall ambiance of the space.
Lastly, the choice of flooring is essential in creating a luxurious and functional bedroom into a walk-in closet. Opting for durable and easy-to-clean materials, such as hardwood or laminate, can provide a stylish and practical solution.
How much does it cost to convert a room to a closet?
The cost can vary, but a basic conversion might cost a few hundred dollars for paint, shelves, and clothing racks. A more extensive conversion with custom shelving and cabinetry can cost several thousand dollars.
How do I turn my room into a closet?
To turn a room into a closet, you can follow these general steps:
a. Empty the room and remove any existing furnishings.
b. Paint or decorate the room as desired.
c. Install shelving, clothing racks, and any other storage solutions you need.
d. Organize your clothing and accessories within the new closet space.
Is it worth adding a closet to a room?
Adding a closet to a room can be worth it if you need additional storage space, want to improve the organization of your belongings, or if it adds value to your home. It can make a room more functional and appealing, which can be beneficial.
How much does it cost to convert a room to a walk-in closet?
Converting a room into a walk-in closet can be more expensive than a regular closet conversion. Costs can range from a few thousand dollars to tens of thousands, depending on the size, customization, and materials used.
Can you add a walk-in closet to a room?
Yes, you can add a walk-in closet to a room if you have enough space available. This typically involves framing out the closet area, and adding walls, shelving, and other storage solutions. The feasibility and cost will depend on the room's layout and your budget.
Can I turn a room into a walk-in closet?
Yes, you can turn a room into a walk-in closet if you have the space and budget for it. The process involves designing and building custom storage solutions to create the walk-in closet of your dreams.
How much does it cost to build a walk-in closet?
The cost of building a walk-in closet can vary greatly. It depends on factors such as the size, materials, and customization. A basic walk-in closet might cost a few thousand dollars, while a high-end custom walk-in closet with premium materials and features could cost tens of thousands of dollars.
How to turn a closet into a dog room?
To turn a closet into a dog room, clear out the closet, add pet-friendly flooring, paint the walls, install shelves for storage, place a comfortable bed or crate for your dog, and ensure good ventilation and lighting.
How to turn a closet into a grow room?
To turn a closet into a grow room for plants, remove closet doors for better airflow, add reflective material to the walls, install grow lights, set up a ventilation system, and use shelves or hanging systems to maximize plant space.
How to turn a closet into a laundry room?
To turn a closet into a laundry room, first, clear out the closet. Then, install a washer and dryer, add shelving or cabinets for laundry supplies, ensure proper electrical and plumbing connections, and provide adequate lighting for sorting and folding clothes.
Experienced Executive Assistant with a demonstrated history of working within the furniture industry. Skilled in furniture styling, visual communication, project management, and proficiency with Adobe Creative Suite. Strong arts and design professional with a (BA) Creative Direction for furniture design focused on Industrial Design from School of the Art Institute of Chicago.