Bring a relaxing, inviting, and meaningful atmosphere to your home with the help of these 13 minimalist living room ideas. From embracing exposed brick walls and neutral palettes to painting a fireplace wall and selecting minimal furniture, this minimalist living room guide inspires some of the best interior designers.
Incorporating natural materials, cleaning up your lines, and having a cozy centerpiece for your living room, you can craft the perfect minimalistic living room to help you relax when the outside world feels overwhelming.
What is Minimalist Living?
Minimalism is an interior design philosophy that embraces minimal decor, furniture, and visual elements. It can also offer freedom and relaxation, allowing you to be mindful of how you use your space. A minimalist living room can provide the perfect example of how to create an inviting and meaningful atmosphere.
Ideas to Achieve a Minimalist Look
Embrace Exposed Brick Walls
One of the quickest ways to get a small room into a more minimalistic look is to embrace exposed brick walls. This is an attractive option, but it can also make the room appear larger and more inviting than if paper drywall covers your walls. It is also easy to pair up any exposed brick walls with furniture that is light in color.
Clean Up Your Lines
Clean lines are a great way to get a minimalist look immediately. They give the room a sense of unity and harmony and leave plenty of room to work with the rest of the décor elements you want to add. This is especially helpful in creating a sharp and inviting atmosphere.
Make Room for a Cozy Center Piece
Minimalist living doesn't mean leaving the room empty! You have to make room for a few pieces of furniture to help set the tone for the rest of the room. A comfortable sofa can easily be the centerpiece. Consider a sofa with a neutral color palette, like grey or beige, and make sure it's made with natural materials like wood or wicker.
Play with Natural Materials
Natural materials, like wicker and wood, are always a great way to add texture to a minimalist living room. Add smaller items, like accent tables or lanterns, or larger pieces, like a coffee table or a sideboard, to your natural materials. These pieces are visually appealing and great at keeping the room organized while helping you stay mindful of how much space you're using.
Focus on Floor Space
Floor space is one of the most essential elements when creating a minimalist living room. Try to balance the items you have in the room and the amount of open space, as this can affect the overall atmosphere and flow of the room. Make sure to leave enough room for items to be displayed, like rugs and throw pillows, but also enough room for you to move around the room.
Put the Fireplace Wall in Focus
If you have a fireplace in your living room, it can quickly become the space's centerpiece. Try playing around with different ideas for the wall, and choose light and airy materials. This can create an inviting atmosphere and instantly make a room appear more minimalistic.
Select Minimal Furniture
When selecting furniture for a minimalist living room, opt for low-profile pieces that can easily coordinate with the room's overall design. This can help create an elegant and simple atmosphere that still leaves you plenty of room to move around the space.
Create a Monochrome Space
Monochromatic spaces are quickly becoming all the rage when creating a minimalistic atmosphere. Try to select pieces in varying shades of white, grey, black, or beige, and consider adding items with texture, such as distressed furniture and throw pillows, to add visual interest to a simple space.
Use a Subdued Color Palette
If you opt for a more neutral color palette, stick to just one primary color, white, and add subtle hits of grey or muted blues and greens. This can help to create a sense of simplicity that lends well to a minimalistic atmosphere.
Look for Ways to Create Visual Interest
Focus on texture to add visual interest to a minimalistic living room. Minimalism isn't the same as boring neutral tones. Adding items with texture, such as a fluffy white area rug or a mix of throw pillows in different shapes, can instantly make the whole room look inviting.
Create a White Living Room
White is a color that can easily evoke feelings of serenity and cleanliness. To create a minimalist living room, make the walls your main focal point and paint them white. This can help create a sense of openness while allowing you to add visual interest to your space with minimalist pieces and decorations.
Gather Meaningful Items
Minimalism is about paring down your items to ensure they are meaningful and purposeful. To keep your living room minimalistic, focus on gathering items that reflect who you are and what you love. This could include family photos, a collection of books, a favorite artwork, or any other meaningful items that can help create a more inviting atmosphere.
Sources for Minimalist Living Room Ideas
If you're looking for specific décor items for a minimalist living room, try to find items that address both form and function. Try to look for pieces with clean lines, timeless shapes, and neutral tones, like white or grey. This can help create a neutral, minimalist base throughout your living room that You can easily personalize with different styles of furniture, throws, and fabrics while staying true to the overall design philosophy of minimalism.
Minimal Living Room Design
Looking to upgrade your living room design but want to keep things simple? Consider a minimal living room design. This style incorporates clean lines, neutral colors, and space-saving furniture to create a clutter-free oasis. Be aware of the lack of accessories, though. A minimal living room can still be cozy and inviting with suitable textiles and lighting.
Plus, with less stuff to clean and organize, you'll have more time to relax and enjoy your newly transformed space. So, whether you're downsizing, embracing a simpler lifestyle, or just looking for a change, a minimal living room design is worth considering.
Simple Living Room Ideas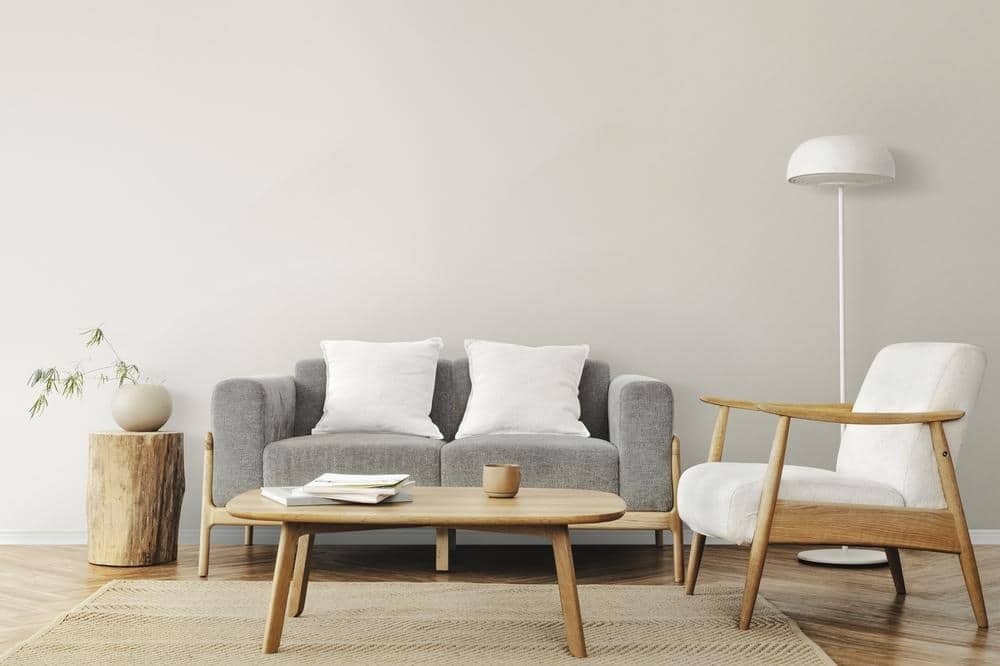 Your living room is the heart of your home, the place where family and friends gather to relax and connect. Simple living room ideas can transform your space from cluttered and chaotic to serene and stylish. One easy way to freshen your living room is to simplify your color scheme. Neutral shades like cream, beige, and gray create a calm and inviting atmosphere and provide a perfect backdrop for colorful accents like throw pillows or artwork.
Additional ways to simplify your space include decluttering, adding simple yet functional furniture, and incorporating natural elements like plants or fresh flowers. By embracing simplicity in your living room, you can create a visually appealing and comfortable space for you and your loved ones.
Minimalist Living Room Design
Creating a minimalist living room design can be an exciting challenge for any homeowner, or interior designer, whether moving into a new space or wanting to update their existing one. The key to achieving a minimalist look is simplicity and functionality. A modern, minimalistic living room should have clean lines, neutral colors, and a clutter-free environment.
By selecting carefully curated furniture and decor pieces, You can draw the room's focus to each item's unique beauty rather than a busy, overwhelming space. With a minimalistic living room design, less is more, and your space will feel calm, inviting, welcoming, and peaceful.
Minimal Living Room Decor
If you're a fan of simplicity and clean lines, then minimal living room decor might be just the thing for you. With its focus on functionality and a pared-down aesthetic, a minimalist living room creates a calming environment that lets you unwind after a long day.
Stripped of excess, a minimalist space allows you to appreciate every piece of furniture and decor and experience the beauty in every detail. To achieve this look, focus on neutral or dark colors throughout, simple shapes, and cozy textures like soft throws and plush rugs. With a minimalist living room, less is truly more.
Minimalist Living Room Furniture
Creating a minimalist living room has become a popular trend in recent years. With its simple and sleek design, this style can declutter your space and create a relaxing environment. One of the critical elements of a minimalist living room is the furniture you choose. When selecting pieces, look for those that are functional, comfortable, and have clean lines.
Avoid anything too flashy or over the top, and stick to a neutral palette of colors that blend seamlessly with your décor. By opting for minimalist living room furniture, you can achieve a peaceful and elegant space where you will love spending time.
Minimalist Living Space
A minimalist living space may seem daunting for those who love to collect things, but it has its perks. A clutter-free environment can help with anxiety and stress and improve focus and creativity. With less stuff in your living space, you'll have more room to move around and enjoy the things you genuinely love.
Keeping things tidy and organized also becomes a breeze. Plus, a minimalist living room or bedroom can look incredibly sleek and stylish, allowing you to showcase only the items that truly bring you joy. So, if you're ready to embrace a simpler, more intentional lifestyle, consider starting with your living space.
Minimalist Contemporary Living Room
The perfect living room decor can often seem elusive. Minimalist home decor is simple, meaning fewer pieces can make a bigger impact. One style that has gained popularity is minimalist contemporary, with its clean lines and sleek design. This style pairs perfectly with a neutral color scheme, allowing the furniture and decor to take center stage.
With a minimalist contemporary living room, you can create a serene and calming space that is both stylish and functional. Opting for high-quality materials, like leather or natural wood, can add an extra touch of luxury to the room. Instead of stuffing a room full of furniture and decor, choosing just a few statement pieces can create a sophisticated and cohesive space.
Minimalist Chic Living Room
A minimalist-chic living room is the epitome of elegance and simplicity. The key to achieving this look is to keep things clean, uncluttered, and streamlined. Incorporating soft neutral colors such as whites, greys, and beiges helps create a sense of calmness and relaxation, while plush rugs and comfy seating create a cozy atmosphere.
Using statement pieces like a sleek modern sofa or bold artwork on the wall can make a big impact without overwhelming the space. With a minimalist chic living room, less is more. It's all about creating an inviting, functional space that exudes sophistication and style.
Minimalist Living Room Setup
A minimalist approach to your living room fosters an aesthetically pleasing environment and encourages a more purposeful and conscious way of life. A minimalist living room arrangement can generate a tranquil and peaceful ambiance in any household. Streamlining the area and retaining only the necessary furnishings and decorations can enhance the room's inherent flow and establish a feeling of openness.
A minimalist living room has a neutral color scheme and sleek lines. Opting for high-quality, long-lasting furniture pieces and incorporating practical storage solutions will guarantee a tidy, low-maintenance space.
How Do I Make My Living Room Minimalist?
To make your living room minimalist, you can start by decluttering and removing any unnecessary items or decorations. Choose a neutral color palette and simple, streamlined furniture pieces. Incorporate natural materials such as wood or stone, and opt for functional lighting rather than decorative fixtures.
Keep the space open and airy by avoiding too many knick-knacks or crowded arrangements. Finally, aim for calm and balance using symmetry, clean lines, and space.
How Do I Make My Minimalist Living Room Cozy?
Add warm textures and soft lighting to make your minimalist living room cozy. Consider adding a plush rug, decorative pillows, and a cozy throw blanket. Choose a few statement pieces, such as a large artwork or a unique coffee table, to add personality to the space. Add soft lighting with lamps or candles to create a warm ambiance. Keep the clutter minimal and use simple, functional furniture to maintain the minimalist aesthetic.
How Do I Make My Living Room Look Minimalist?
To make your living room look minimalist, declutter and keep only essential furniture items, choose a neutral color palette, incorporate multifunctional and simple-designed pieces, use ample natural light, and keep decorations minimal and intentional. This will create a clean, open, and calming space.
How To Design The Living Room With Low Budget?
To design a living room on a low budget, follow these tips:
Plan and prioritize: Identify the essential elements you want to include and allocate your budget accordingly.
DIY and upcycle: Repurpose old furniture or create your décor pieces to save money.
Shop second-hand: Check out thrift stores, garage sales, and online marketplaces for affordable options.
Opt for multi-functional furniture: Choose pieces that can serve multiple purposes, like a coffee table with storage or a sofa bed.
Use paint and wallpaper: Refresh walls with a new coat of paint or use affordable, removable wallpaper for an instant transformation.
Use inexpensive accessories: Add personality with affordable accessories like throw pillows, rugs, and artwork.
Rearrange furniture: Experiment with different layouts to create a more functional and visually appealing space without spending a dime.
Embrace minimalism: Stick to essential furniture and décor to keep costs low while maintaining a clean and clutter-free living room.
What Is Minimalist Living Room?
A minimalist living room is a space designed with simplicity, functionality, and clean lines, emphasizing the use of fewer, high-quality furnishings and decor . It creates a clutter-free, calming atmosphere by incorporating a neutral color palette, minimal furniture, and well-curated decorative elements. The goal is to promote a sense of spaciousness, relaxation, and intentional living.
How To Decorate Living Room On a Low Budget?
To decorate a living room on a low budget, consider these tips:
Rearrange furniture to create a fresh look and optimize space.
Repurpose or upcycle items, such as painting old furniture or turning crates into storage.
Use DIY wall art and decor, like framing fabric or creating a photo gallery.
Shop at thrift stores or yard sales for affordable, unique finds.
Utilize versatile, affordable pieces like floor pillows or ottomans.
Add inexpensive lighting options, like string lights or floor lamps.
Incorporate plants for a natural touch and improved air quality.
Use colorful, affordable textiles like throws, rugs, and curtains to enliven the space.
How Would You Describe A Minimalist Living Room?
A minimalist living room has a simple, uncluttered design, featuring only essential furniture and decor. The room's layout often focuses on open spaces and natural light, embodying a "less is more" philosophy. It prioritizes functionality, clean lines, and neutral color schemes, creating an airy and calming atmosphere.
How To Furnish A Small Living Room Cheaply?
To furnish a small living room cheaply, consider these tips:
Plan your layout and budget wisely to maximize space and minimize costs.
Opt for multi-functional furniture like sofa beds, nesting tables, or storage ottomans.
Buy second-hand items from thrift stores, online marketplaces, or garage sales.
Repurpose and upcycle existing furniture with a fresh coat of paint or new upholstery.
Use mirrors and light-colored furnishings to create an illusion of a larger space.
Invest in affordable yet stylish accessories like cushions, rugs, and wall art to add personality.
Shop during sales or discounts and compare prices before purchasing items.
How Can I Decorate My Living Room Minimally?
To decorate your living room minimally, focus on simplicity and functionality . Utilize natural light, select minimalistic artwork or accessories, and opt for understated window treatments to maintain a sense of spaciousness and calm in the room. Choose a neutral color palette with one or two accent colors, invest in quality, multifunctional furniture with clean lines, and avoid clutter by incorporating intelligent storage solutions.
How To Style A Small Living Room That Has Lots Of Furniture?
To style a small living room with lots of furniture, follow these steps:
Declutter: Remove unnecessary items to create more space and make the room feel less cramped.
Multi-functional pieces: Opt for furniture that serves multiple purposes, such as a coffee table with storage or a sofa bed.
Proper arrangement: Arrange furniture to maximize space and functionality, keeping walkways clear and avoiding overcrowding.
Use vertical space: Install shelves or floating units on walls to display items or store belongings without taking up floor space.
Color scheme: Stick to lighter colors for walls, furniture, and textiles to create an open and airy feel. Add pops of color with accessories.
Mirrors: Utilize mirrors to reflect light and make the room appear larger.
Lighting: Use multiple sources to create a cozy ambiance and highlight specific areas or features.
Cohesion: Ensure a cohesive design by sticking to a consistent style and theme throughout the space.
What Makes A Living Room Minimalist?
A minimalist living room embraces simplicity, functionality, and a clutter-free environment. It emphasizes quality over quantity, focusing on a few statement pieces and carefully curated decor to create a serene and visually appealing space. Key elements include a limited color palette, minimal furniture, clean lines, open spaces, and natural light.
What Is Living A Minimalist Lifestyle?
Living a minimalist lifestyle is the intentional practice of simplifying one's life by focusing on what truly matters and eliminating excess possessions, distractions, and commitments. This approach emphasizes the importance of quality over quantity, aiming to create a more meaningful, clutter-free, and mindful existence by prioritizing essential needs, cultivating deeper relationships, and pursuing personal growth.
How Do You Arrange A Minimalist Living Room?
To arrange a minimalist living room, follow these steps:
Declutter: Remove unnecessary items and keep only essential furniture and decor.
Opt for a neutral color palette: Stick to colors like white, beige, or gray to create a calming atmosphere.
Choose multifunctional furniture: Invest in pieces that serve multiple purposes, such as a sofa bed or storage ottoman.
Prioritize simplicity: Avoid ornate or overly decorative items, opting for clean lines and simple shapes.
Use a focal point: Choose one standout piece, like a statement art piece or bold rug, to anchor the room.
Leave open spaces: Maintain a sense of spaciousness by avoiding overcrowding and leaving room to move around.
Incorporate natural light: Maximize windows, mirrors, and sheer curtains to create an airy, well-lit environment.
Stay organized: Keep your living room tidy using intelligent storage solutions and maintaining a clutter-free space.
Experienced Executive Assistant with a demonstrated history of working within the furniture industry. Skilled in furniture styling, visual communication, project management, and proficiency with Adobe Creative Suite. Strong arts and design professional with a (BA) Creative Direction for furniture design focused on Industrial Design from School of the Art Institute of Chicago.