Are you tired of rummaging through a cluttered closet every morning? It's time to transform your reach-in closet into a dream space! With the latest trendy reach-in closet systems, organizing your clothes, shoes, and accessories has never been easier.
In this article, we will explore eight innovative ideas to give your closet a stylish and functional makeover. Whether you're a minimalist or a maximalist, there are reach-in closet systems ideas that suits your needs and aesthetic preferences.
Benefits of Using Reach-in Closet Systems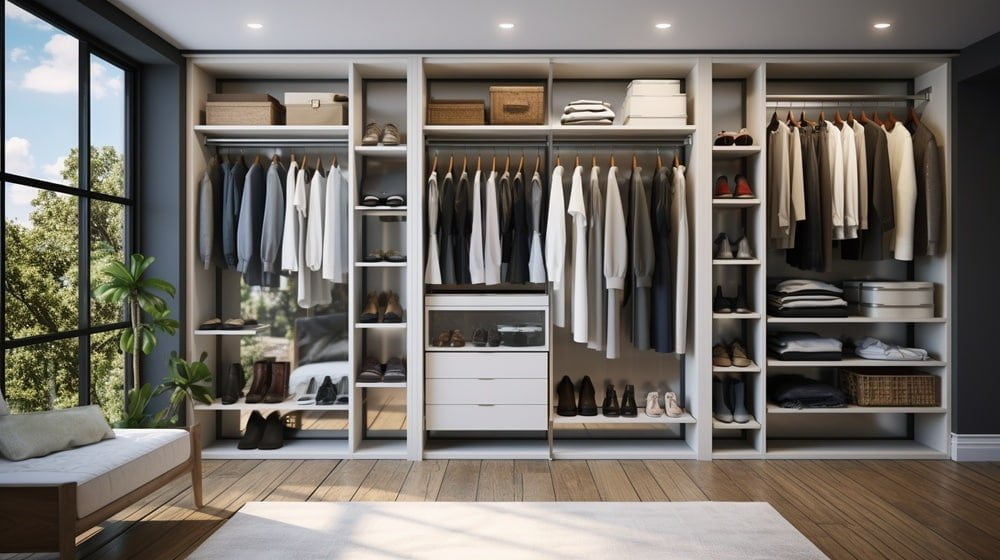 Reach-in closet systems offer numerous benefits that can greatly enhance your everyday life. Whether you have a small or large reach-in closet, these systems can maximize your storage space and make it easier to find and access your belongings.
One of the main advantages of these systems is their ability to optimize your closet's layout. By utilizing adjustable shelving systems and modular drawer units, you can customize your closet to fit your specific needs and preferences. This means no more wasted space or cramped corners.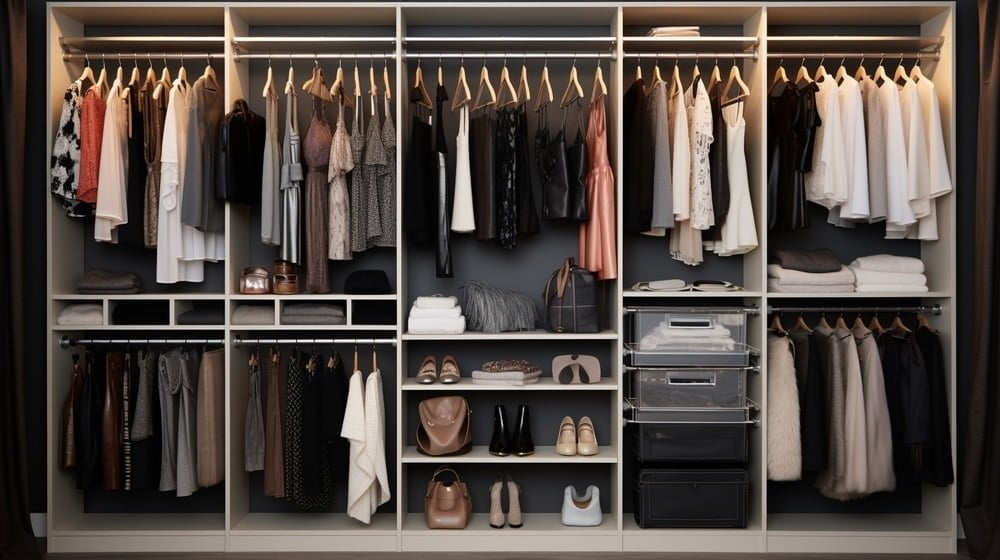 In addition, reach-in closet systems can help you stay organized. With designated compartments for shoes, ties, jewelry, and handbags, you can easily find and retrieve the items you need, saving you time and frustration. Furthermore, these systems can also help preserve the condition of your belongings by providing proper storage solutions that prevent damage and wrinkles.
Factors to Consider When Choosing a Reach-in Closet System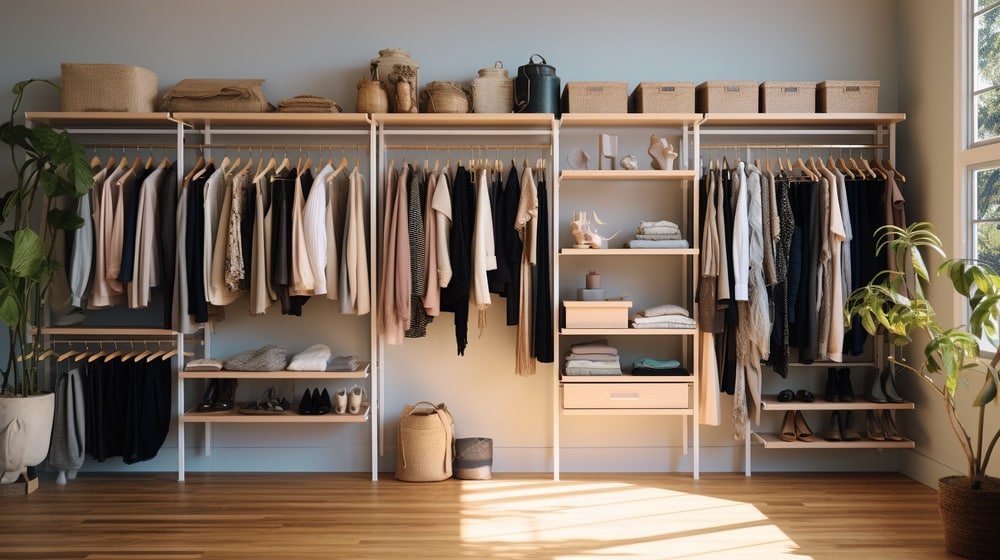 Before diving into the trendy reach-in closet system ideas, it's important to consider a few factors that will help you make the best choice for your space.
First and foremost, assess the size of your reach-in closet. Measure the height, width, and depth to ensure that the system you choose will fit perfectly. Keep in mind that the goal is to maximize the available space, so choose a system that offers smart storage solutions without overwhelming the closet.
Next, consider your personal style and aesthetic preferences. Reach-in closet systems come in a variety of designs, materials, and finishes. Whether you prefer a traditional, modern, or contemporary look, there's a system that will complement your overall interior design.
Lastly, think about your storage needs. Are you a shoe lover with an extensive collection? Do you have a large wardrobe that requires ample hanging space? Or perhaps you need extra compartments for accessories like ties and belts. Understanding your storage requirements will help you choose a reach-in closet system that caters to your specific needs.
Traditional Reach-in Closet System Ideas
If you're a fan of timeless elegance and classic design, traditional reach-in closet systems are the perfect choice for you. These systems incorporate features that have stood the test of time and offer a sophisticated touch to any space.
One popular traditional idea is the use of built-in cabinetry and crown molding. This creates a seamless and polished look, giving your closet a high-end and luxurious feel. Additionally, traditional reach-in closet systems often include hanging rods, adjustable shelves, and drawers, providing ample storage space for your clothes and accessories.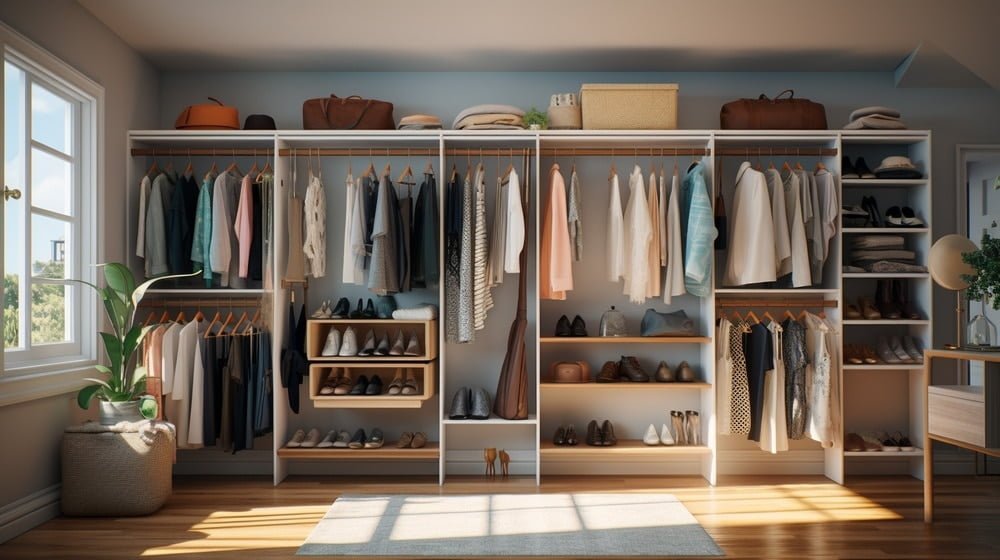 Another traditional touch is the addition of a vanity area with a mirror and a comfortable stool. This adds a touch of glamour and transforms your closet into a personal dressing room. Complete the look with soft lighting fixtures, such as chandeliers or wall sconces, to create a warm and inviting atmosphere.
Modern Reach-in Closet System Ideas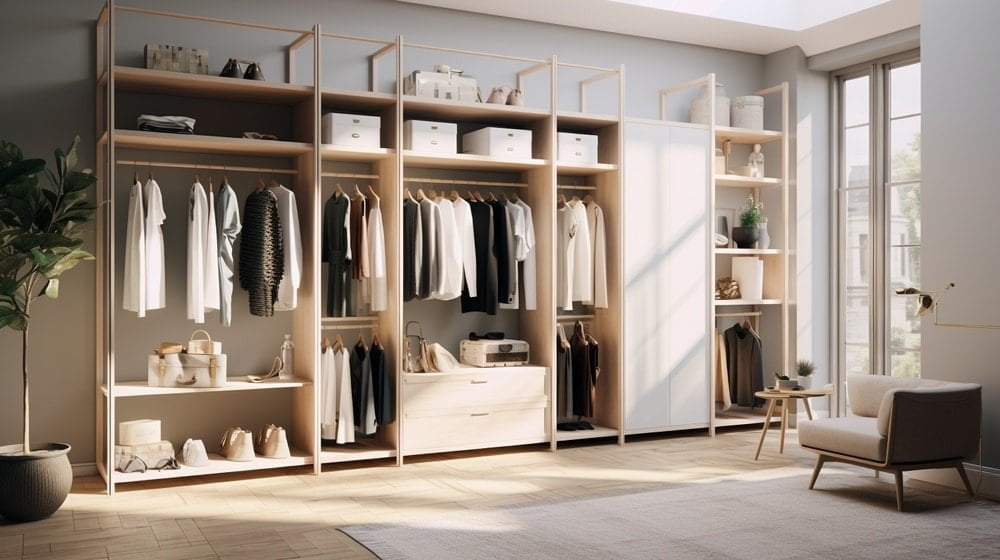 For those who prefer a sleek and minimalist aesthetic, modern reach-in closet systems offer a clean and contemporary look. These systems focus on simplicity, functionality, and efficient use of space.
One popular modern idea is the use of open shelving units. These allow you to display your favorite shoes, bags, and accessories, adding a stylish and personal touch to your closet. Pair the open shelving with hanging rods and adjustable shelves to create a versatile storage solution.
Another modern touch is the incorporation of glass or mirrored sliding doors. This not only adds a touch of sophistication but also creates an illusion of a larger space. The reflective surfaces can make your closet feel brighter and more spacious.
To enhance the modern vibe, consider using LED lighting. Strip lighting along the edges of shelves and rods can create a dramatic and futuristic effect. Additionally, motion sensor lights can be installed to automatically illuminate your closet when you enter, adding a touch of convenience and luxury.
Contemporary Reach-in Closet System Ideas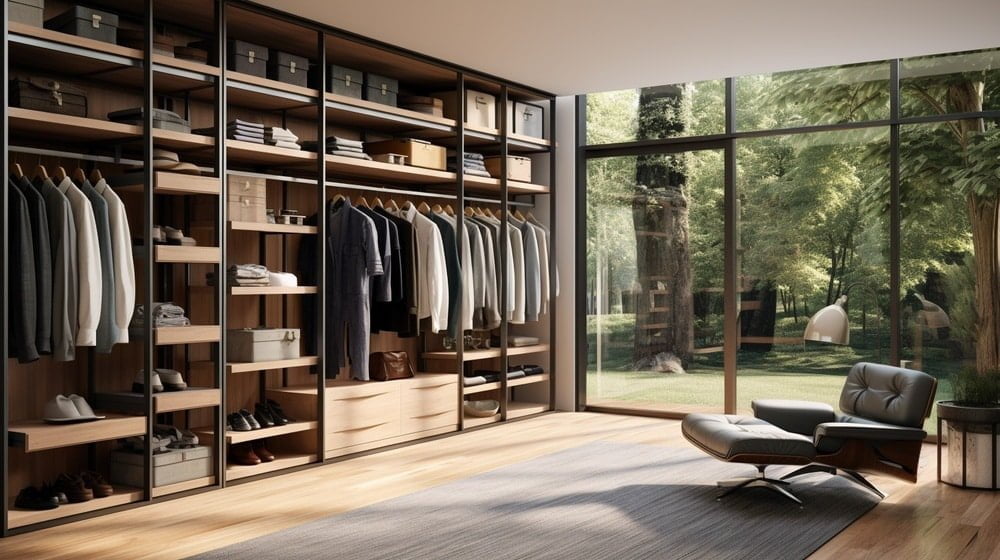 If you're looking for a reach-in closet system that combines the best of both traditional and modern elements, contemporary designs are the way to go. These systems offer a balance between classic elegance and sleek simplicity.
One contemporary idea is the use of mixed materials and finishes. Combine wood, metal, and glass to create a unique and visually appealing closet. For example, you can have a wooden shelving system with metal accents and glass panels for a contemporary twist.
Another contemporary touch is the incorporation of unique storage solutions. Think pull-out accessories racks, rotating shoe carousels, and hidden drawers. These features not only maximize storage space but also add a touch of innovation and functionality to your closet.
To enhance the contemporary vibe, consider adding a statement piece of furniture, such as an ottoman or a plush bench. This provides a comfortable seating area and adds a touch of luxury to your space. Complete the look with modern lighting fixtures, such as pendant lights or track lighting, to create a well-lit and stylish ambiance.
Customizable Reach-in Closet System Ideas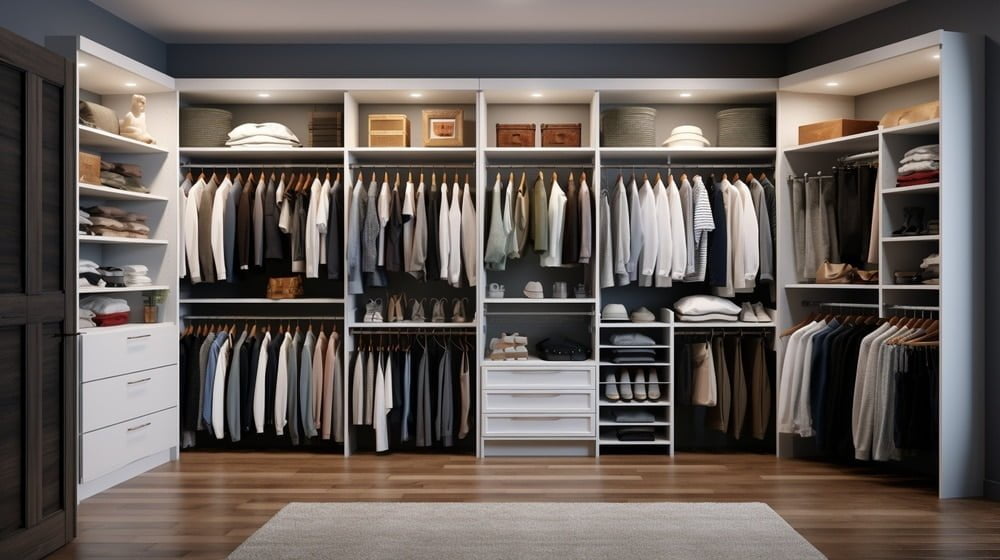 One of the greatest advantages of reach-in closet systems is their ability to be customized according to your specific needs and preferences. These customizable systems allow you to have a closet that is truly tailored to your lifestyle.
One popular customizable idea is the use of adjustable shelving systems. These systems allow you to move the shelves up and down, creating a versatile storage solution that can accommodate items of different heights. This is particularly useful for storing shoes, bags, and folded clothes.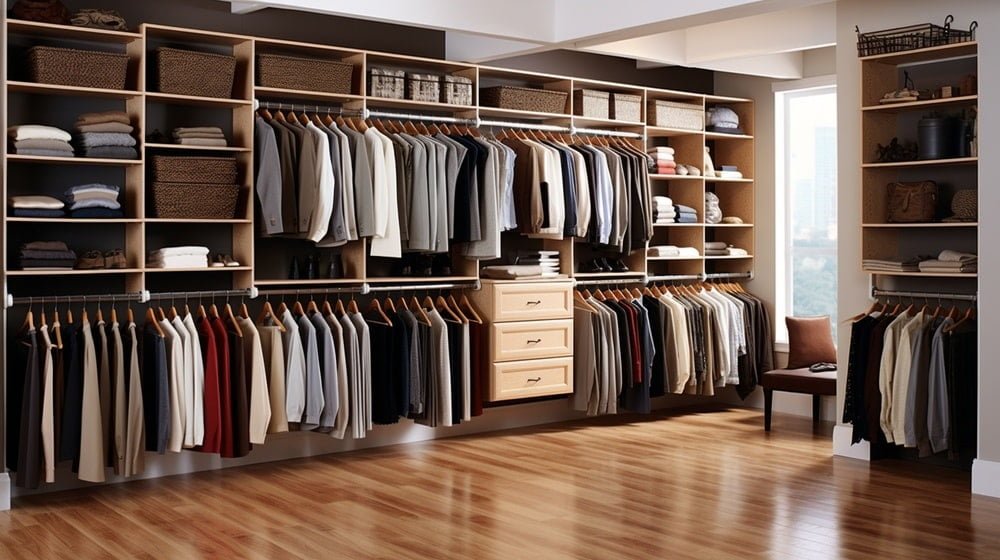 Another customizable touch is the addition of modular drawers and dividers. These allow you to create compartments of various sizes, ensuring that each item has its designated place. Whether you need a large drawer for sweaters or small dividers for accessories, these customizable features can make organizing your closet a breeze.
To take customization to the next level, consider incorporating a clothing rail system with adjustable heights. This allows you to hang different lengths of clothing, from dresses to trousers, without any hassle. Additionally, you can add hooks and pegboards to hang belts, scarves, and other accessories.
Space-saving Reach-in Closet Systems Ideas
If you have a small reach-in closet or simply want to maximize the available space, space-saving reach-in closet systems offer ingenious solutions that will make the most out of your closet.
One space-saving idea is the use of vertical storage solutions. Install floor-to-ceiling shelving units or hanging rods to make use of the entire height of your closet. This not only provides ample storage space but also creates a visually appealing and organized look.
Another space-saving touch is the incorporation of pull-out features. Install pull-out shoe racks, tie racks, and accessory drawers to make use of every inch of your closet. These pull-out features can be neatly tucked away when not in use, maximizing the available space.
To further maximize space, consider using slim hangers for your clothes. These take up less space than traditional hangers, allowing you to fit more clothing in your closet. Additionally, utilize the back of the closet door by adding hooks or hanging shoe organizers.
Accessories and Features for Reach-in Closet Systems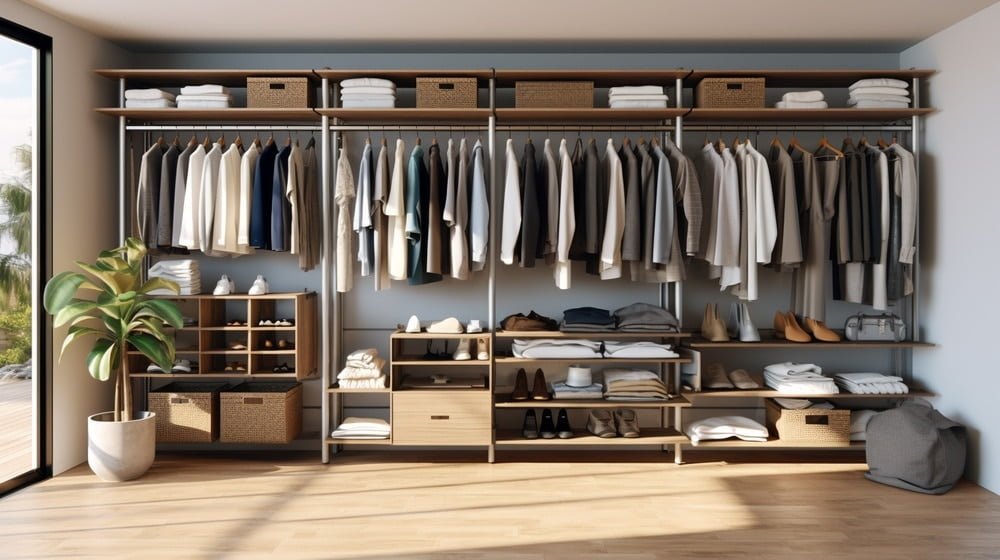 To truly elevate your reach-in closet system and create a luxurious and functional space, consider incorporating accessories and features that will enhance your everyday experience.
One essential accessory is proper lighting. Install LED strip lights along the edges of shelves and rods to ensure that every corner of your closet is well-lit. This not only makes it easier to find and select your clothes but also adds a touch of elegance and sophistication.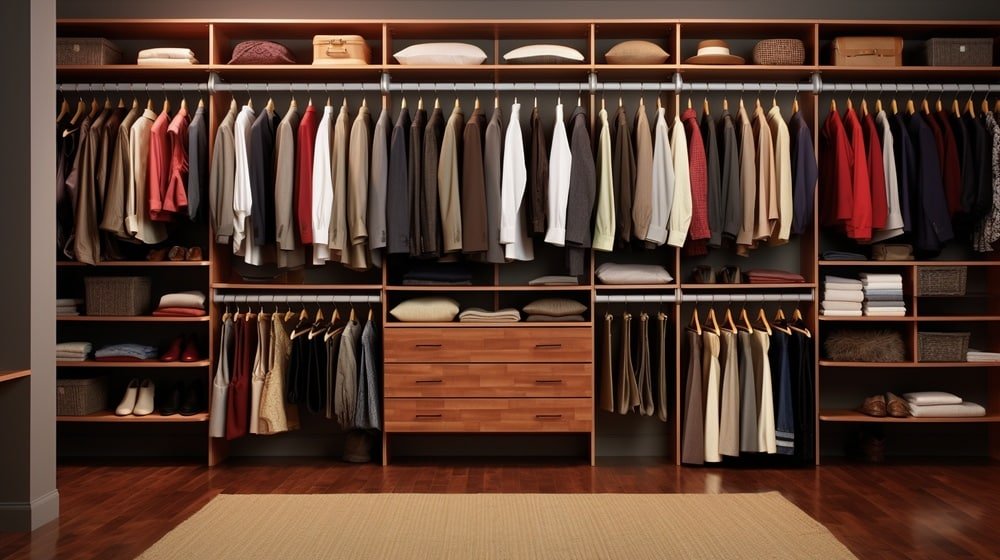 Another must-have feature is a full-length mirror. Whether mounted on the wall or integrated into the closet door, a full-length mirror allows you to see your entire outfit and ensures that you always leave the house looking your best. Consider adding built-in lighting around the mirror to create a vanity-like atmosphere.
To keep your accessories organized, consider incorporating specialized storage solutions. Install jewelry trays, hooks, and dividers to keep your necklaces, bracelets, and earrings tangle-free. Additionally, add pull-out tie and belt racks, as well as dedicated compartments for sunglasses and watches.
For the shoe lovers out there, consider adding shoe shelves or pull-out shoe racks. These features not only keep your shoes organized but also showcase your collection in a stylish and accessible manner. Consider integrating shoe dividers or shoe boxes to keep your footwear in pristine condition.
Reach in Closet Systems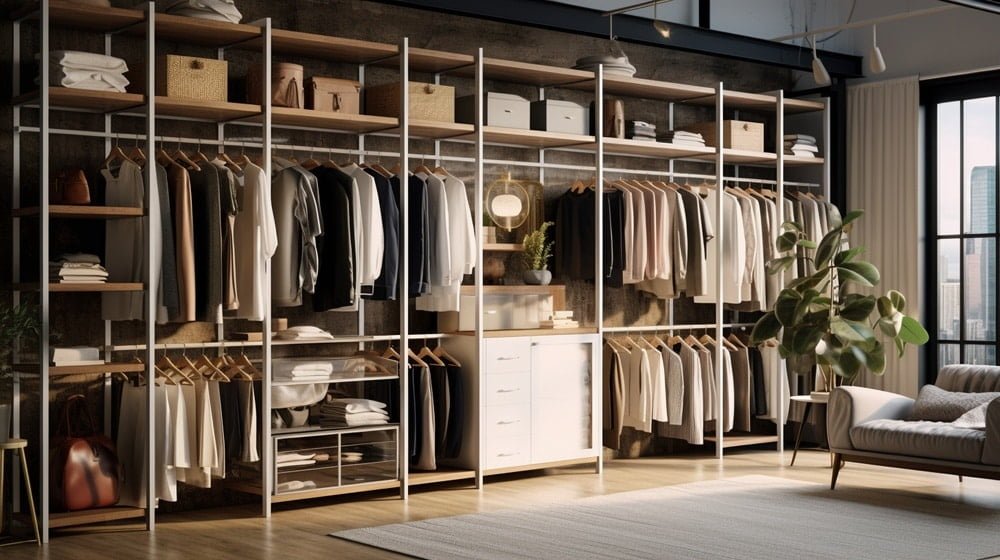 Closets can be both a source of organization and a space for self-expression. For those with limited space, reach in closet systems can be the ideal solution. These efficient closet systems can be tailored to not only meet but exceed storage needs.
By customizing each reach in closet system, users can take control of their storage and maximize space while still showcasing their personal style. In the world of closet systems, a custom closet system is key to ensuring each item has its own place, while also reducing clutter and ensuring that users can easily locate their belongings.
Reach in Wardrobe Systems
When you organize your clothing and accessories, a modular closet system can make all the difference. Reach in wardrobe systems provide ample storage space in a compact design, saving valuable floor space in your bedroom. With customizable shelving and hanging space, you can easily create a tailored storage solution that meets your unique needs.
These systems also offer a range of finishes and accessories, allowing you to personalize the look and functionality of your closet. Whether you need a small storage solution or a larger closet system, reach in wardrobes offer a professional, versatile and practical solution for your home.
Reach-in Closet Systems Design
When creating a functional and stylish storage space, custom closets are the cherry on top. While walk-in closets certainly have their perks, reach-in closet systems offer a practical solution for organizing smaller spaces. With a tailored closet organizer, homeowners can maximize every inch of their closet and keep their belongings in order.
Our professional team specializes in designing custom reach-in closet systems that cater to our clients' unique needs and preferences. From shelving and hanging space to accessory storage and more, we strive to make the most out of every square foot available.
Finding the Perfect Reach-in Closet Systems
Finding the perfect reach-in closet system can be a game-changer. The best closet systems not only help maximize your storage space but also provide a sense of calm and order to your daily routine. One popular option for high-quality closet organizers is Bienal Closets . Our customizable solutions allow for a tailored fit to your specific needs and preferences.
Closet Organizer Kits: a Comprehensive Review
When it comes to efficiently utilizing your bedroom closet, closet organizer kits have become a game-changer in recent years. With a range of styles and configurations available, they offer a customizable solution for optimizing your closet storage space.
The best closet organizer kits are made of high-quality materials and provide functional features such as multiple hanging rods, shelves, and drawers. They also make it easy to keep your clothes and accessories organized and easily accessible.
Wardrobe Closet Systems: Organize Your Space in Style
Outfitting your laundry room with a wardrobe closet system can bring significant benefits to your home space. Not only does this system help you customize and maximize your storage space, but it can also add an exceptional touch of style to your home. Wardrobe closet systems offer ample storage solutions, and storage bins integrated into the system make accessing your clothes and accessories an absolute breeze.
With such a system in place, you no longer have to worry about limited storage space, mounds of clothes piling up, or scrambling through overstuffed, disorganized shelves. Keep everything arranged and neat with a customized wardrobe closet system—perfect for those who want to be both efficient and chic.
Exploring the Best Closet Shelves for Your Needs
A well-organized closet can make your daily routine smoother and more efficient. To achieve an orderly closet, investing in a custom closet system or closet organizer systems is a smart move. Closet shelves are a crucial element of a functional closet, as they can be tailored to your specific needs and maximize space.
Choosing the best closet shelves for your needs involves considering factors such as the size and shape of your closet, the types of items you need to store, and your personal preferences.
Best Custom Closet Systems: Tailoring Storage to Perfection
A custom closet system can make all the difference in keeping your home organized and clutter-free. With a closet that is tailored to your specific needs and preferences, you can maximize storage and create a space that is as functional as it is stylish.
Closet organizer systems are becoming increasingly popular among homeowners who value organization and efficiency, and there are plenty of options to choose from. Whether you require additional hanging space, shelving, or accessory storage, a custom closet system can be designed to fit your exact specifications.
Best Wood Closet Systems: Durable and Stylish Solutions
Looking for an attractive closet system that offers durability and style? Look no further than the array of custom and modular closets on the market today. These closet systems offer more than just functional storage; they also add a touch of elegance to any space.
Whether you're looking for a sleek, modern solution or a more traditional design, there's a closet system out there that's perfect for your needs. With high-quality materials and expert craftsmanship, these systems are built to last for years to come – making them a wise investment for any homeowner.
Best Value Closet Systems: Maximizing Storage Without Breaking the Bank
Many people assume that the best options come with a hefty price tag. However, that simply isn't always the case. In fact, some of the best value closet systems available today can help maximize storage space in your home without breaking the bank. To truly make the most of your closet space, it's important to consider how much wall space you have available, as well as how much vertical hanging space you need.
Look for systems with multiple hanging rods, adjustable shelving, and plenty of shoe racks to keep your shoes organized and out of the way. With the right closet system in place, you'll be amazed at how much more organized and functional your home can be.
Best Closet Systems on a Budget: Affordable Organization Solutions
For those looking to get organized on a budget, a closet organization system is a must-have. While the cost of some closet systems can be daunting, there are affordable options out there that won't break the bank. Wire shelves and closet rods are great for those starting on a budget, offering a functional and customizable solution.
With the ability to adjust shelves and rods to your specific needs, you can create the perfect storage solution for your space without spending a fortune.
The Search for the Best Inexpensive Closet Systems
The never-ending search for the best inexpensive closet systems has become a popular quest among organized homeowners. With more and more people seeking to streamline their living spaces, the demand for innovative storage solutions has dramatically increased.
Whether you're dealing with a reach in closet or a walk-in wardrobe, there are plenty of options to consider when it comes to closet spaces. From wire racks to DIY shelving units, the choices can be dizzying. However, with some careful planning and research, you can design the perfect reach in closet system that meets all your storage needs while remaining affordable and easy to install.
What is the fastest way to organize a closet?
The fastest way to organize a closet is to use a method called the "Four-Box Technique." Set up four boxes or bins in your closet or room labeled: Keep, Donate/Sell, Trash, and Relocate. Go through your items one by one and quickly decide which category they belong to. This method helps you declutter and organize your closet efficiently.
How do I organize my closet with too much stuff?
When dealing with a closet that has too much stuff, follow these steps:
Start by decluttering and removing items you no longer need or use.
Invest in storage solutions like shelves, hanging organizers, and storage bins to maximize space.
Use slim hangers to create more hanging space.
Consider rotating seasonal items in and out of your closet to create more room.
Utilize vertical space by adding hooks or over-the-door organizers.
What is the cheapest way to organize a small closet?
The cheapest way to organize a small closet is to:
Declutter and get rid of items you no longer need.
Use affordable storage solutions like plastic bins, shoe racks, and tension rods.
Repurpose items you already have, such as shoeboxes or crates, as storage containers.
Utilize hanging organizers and slim hangers to maximize space.
DIY solutions like adding additional shelves or hooks can also be cost-effective.
How much does a built-in wardrobe closet cost?
The cost of a built-in wardrobe closet can vary widely depending on factors such as materials, size, design, and location. On average, you can expect to pay anywhere from a few hundred dollars for a basic, small wardrobe to several thousand dollars for a larger, customized, high-end built-in wardrobe. It's best to obtain quotes from local carpenters or closet companies for more accurate pricing.
How much does it cost to put in a closet system?
The cost of putting in a closet system also varies based on factors like size, complexity, materials, and whether you choose a DIY or professional installation. For a basic DIY closet system, you might spend a few hundred dollars.
Professionally installed closet systems, especially customized ones, can range from several hundred dollars to several thousand dollars or more. The cost will depend on your specific requirements and the materials used in the system.
Experienced Executive Assistant with a demonstrated history of working within the furniture industry. Skilled in furniture styling, visual communication, project management, and proficiency with Adobe Creative Suite. Strong arts and design professional with a (BA) Creative Direction for furniture design focused on Industrial Design from School of the Art Institute of Chicago.