The Murphy bed cost is an essential factor to consider when evaluating its space-saving solution. Many elements can affect the murphy bed cost, including the bed's size, mechanism type (e.g., side mount or parallel), mattress type, and accessories such as wall cabinets and remote controls for ease of use. While Murphy beds are initially more expensive than traditional beds, their long-term benefits in terms of space usage make them a worthwhile investment in a multi-purpose environment.
Knowing how murphy bed costs break down into its components is crucial to getting the best bang for your buck when selecting this practical and dynamic method of sleeping comfortably while maximizing your functional space.
Murphy beds (also known as wall beds, folding panel beds, or pull-down beds) are a safe way to save space in your sleeping area by allowing you to fold your bed away during the day and use the floor space for other activities such as studying.
But how much does a Murphy bed set you back?
For a high-quality frame in a twin, full, or queen size, the average price of a Murphy bed is between $800 and $1500. However, depending on the quality of the materials and the features included, Murphy bed costs as little as $454.99 or as much as $8199.99.
But what makes Murphy beds so expensive in comparison to other types of beds, and why is there such a large price difference between the cheapest and most expensive Murphy beds?
The most expensive Murphy beds include additional features such as a sofa, bookcase, or storage shelves and usually have a hydraulic piston mechanism, whereas the cheapest Murphy beds have a simple lift mechanism and include only a frame or a cheap mattress.
Look for a Murphy bed with the following features if you want to buy a cheap Murphy bed that is also of high quality:
A frame with a straightforward lift mechanism and no hydraulics.
It does not necessitate professional installation.
It does not include expensive extras such as a sofa.
Is it twin, full, or queen size – king size Murphy beds are more expensive.
It is not necessary to purchase an extended warranty.
Shipping costs are included.
9 Factors Affecting the Murphy Bed Costs
The type of lift mechanism, whether the professional installation is required, extra features, the size of the Murphy bed, the cost of the mattress, the material quality, the cost of an extended warranty, and shipping are the main factors that influence the cost of a Murphy bed.
More details are below:
1- The Lift Mechanism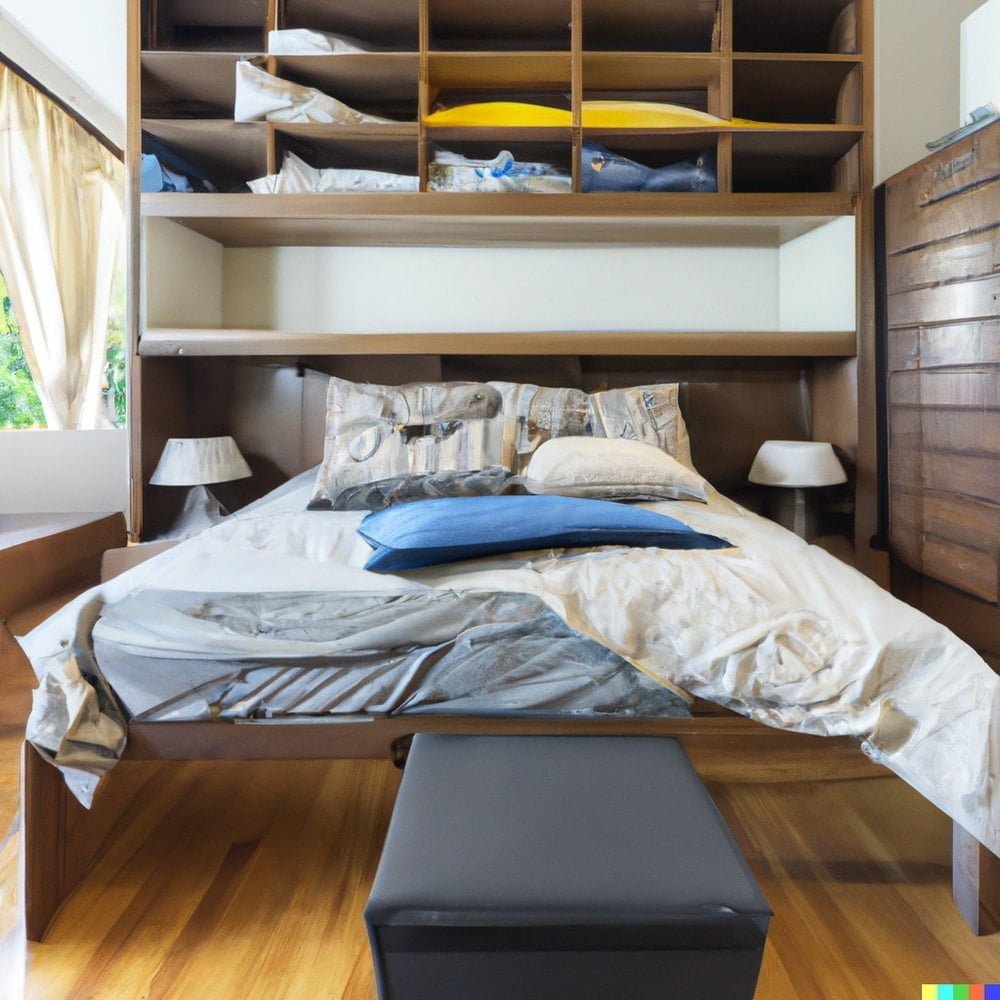 The main reason Murphy beds are so expensive is because of the lift mechanism – hydraulic pistons typically increase the cost the most, whereas Murphy beds with non-hydraulic lift mechanisms are typically the cheapest to buy.
Although pistons are more expensive, the presence of this type of lift mechanism can greatly improve the ease of lifting and lowering the bed (especially important if you don't have a lot of strength or someone to help you lift the bed up).
2- Professional Installation
Murphy beds that require professional installation typically cost more – the national average is $3,000, with highs of $5,000 and lows of around $1,500.
Although having your Murphy bed professionally installed will significantly increase your costs, it is the safest way to install your Murphy bed because the professionals will ensure that everything is properly put together.
But if you can't afford costly professional installation, then you can opt for a cheaper freestanding Murphy bed cabinet that doesn't need fixing to the wall – allowing you to keep costs down whilst reducing the complexity of the build process so that there's less chance of making an error when assembling the bed.
3- Extra Functionality
Purchasing a Murphy bed with additional features such as shelves, a bookcase, a desk, a TV stand, or a sofa can significantly increase the cost – with sofa and seating additions pushing the cost beyond the $8,000 mark for the best models.
4- The Size of the Murphy Bed
The larger the Murphy bed, the more expensive it will be – with single and twin Murphy beds being the cheapest and full (double), queen, and king-sized Murphy beds becoming progressively more expensive as the material volume increases.
This means that twin, full, and queen sizes are the most common for Murphy beds, with king sizes being rarer due to the additional size and weight requiring a more powerful lift mechanism.
5- The Cost of the Mattress
Purchasing a Murphy bed frame and a mattress separately is typically more expensive than purchasing a Murphy bed that includes a compatible mattress – usually, because the included mattress is thinner and of lower quality.
As a result, if you don't mind sacrificing some comfort and durability in the long run, buying a frame and compatible mattress together is the cheapest way to buy a complete Murphy bed setup, whereas buying a high-quality frame and compatible mattress separately is the most comfortable and long-lasting option.
6: The Quality of the Materials
Murphy beds made of low-quality materials such as laminate, MDF, and particleboard will be less expensive than Murphy beds made of solid wood, hardwoods, and higher-quality materials, but they will not last as long and may be less sturdy.
7- Extended Warranties
Most Murphy beds come with a standard warranty that is free of charge, but choosing an extended warranty can raise the price – with $500 being the average cost for an extended Murphy bed warranty.
8- Removing the Murphy Bed
While you may be able to remove your Murphy bed from the wall for free, it may cost up to $200 – $500 or more to have it professionally removed and reinstalled at your new location if you're moving.
Another reason to choose a freestanding Murphy bed cabinet is that it does not need to be attached to the wall and may be easier to disassemble and transport.
9- Building Your Own Murphy Bed
The most affordable way to purchase a Murphy bed is to purchase a Murphy bed kit for less than $300 and build your own Murphy bed from the ground up.
However, building your own Murphy bed necessitates some DIY knowledge and raises the risk of something going wrong during the construction and installation process, potentially making your Murphy bed less safe – as well as the risk of injury when using tools.
A Murphy Bed Can Make Any Space a Multi-Function Space
A Murphy bed is the perfect addition to any limited-space home. This ingenious invention has been around for decades and can easily turn an ordinary room into a multifunctional space. Not only do Murphy beds allow you to have a hidden sleeping area, but they also enable the room to be transformed into whatever space you need it to be — whether it's an office, study room, or craft area, your Murphy bed can accommodate all of your needs. With this in mind, it's clear that any small space is not an obstacle when you have a versatile Murphy bed.
Selecting The Right Materials
When selecting suitable materials for a murphy bed, it is essential to consider both form and function. Quality should be a priority when picking items that will make up your murphy bed so you can guarantee stability and longevity. Hardwoods such as oak and maple are excellent for murphy beds because of their strength and durability. A quality mattress is also an essential element of any murphy bed, as it will provide comfort for years to come.
Furthermore, selecting complementary hardware for drawer pulls, hinges, and knobs can help give your murphy bed an individualized look and feel. With careful consideration from design to execution, you will be sure to find the perfect murphy bed materials that best fit your needs.
Factors That Affect Murphy Bed Prices
The price of a murphy bed depends on several factors, such as the type of opening mechanism, material selection, and added features. Wall beds with complex motorized or electric mechanisms will cost more than basic pull-down beds, while murphy beds with simpler hardware are typically more budget-friendly. The material used for murphy beds also affects their cost; wood frames are pricier than metal frames. Depending on the customization desired in a murphy bed, add-on features such as built-in lighting, shelving, and drawers may increase the overall costs. Ultimately, murphy bed costs vary greatly depending on the style and materials chosen by the consumer, resulting in an almost infinite range of prices.
Of course, the cost of Murphy beds depends on their size and material, but there are other factors to consider. Murphy beds can turn conventional bedrooms into multifunctional spaces, which traditional bed sets cannot. To learn more, keep reading.
Assembly Type
The price of a ready-made or custom-built machine varies. According to Fixr.com, some custom builds can cost several thousand dollars. Some manufacturers offer installation at an additional charge.
Box Spring
Because Murphy beds and wall beds don't require a box spring, purchasing one is cheaper than traditional mattresses.
Folding Mechanism
A solid wood murphy bed with standard pistons costs an average of $3,000 to install.
Material
Like Ikea furniture, murphy beds constructed from poor-quality materials—like laminate, MDF, or particleboard—are cheaper than those constructed from quality materials. However, real wood Murphy beds are more expensive but are still within financial reach.
Protection Plans & Warranties
Protection plans and warranties are often offered at an extra cost with mattresses and other big purchases. These one-time charges typically average $500. 100% satisfaction guarantees are available from a select group of corporations. It's helpful to research the manufacturer's policies before making a purchase.
Size
Murphy beds are sold in twin, full, queen, and king sizes like regular mattresses. The amount you pay for a Murphy bed, just like a regular bed, increases as the size does. Murphy beds aren't the same as regular beds in that the size of the cabinets often varies from model to model.
Choose a Balance Between Quality and Price
While some very low-cost Murphy beds are available for less than $500, the quality and comfort of these low-cost options may be questionable in the long run.
As a result, if you're looking for a low-cost Murphy bed, consider purchasing a model known to be of higher quality but also reasonably priced, such as the Bienal Closets Wall Bed.
What is the difference between a wall bed and a Murphy bed?
The traditional murphy bed is popular for those who want to create more space in their home. It's either wall- or floor mounted and uses elaborate springs and metal frames (with some models also incorporating cabinets), which raise/lower your mattress depending on where you're placing them – as well as provide storage if desired! On the other hand, there aren't many differences between this setup besides appearance; however, I must admit that having something against my walls made out of wood instead felt wonderful after
Is a Murphy bed comfortable to sleep on?
Absolutely! Murphy beds are a comfortable and convenient sleeping option for anyone looking for an all-in-one sleeping solution. Here's why:
Optimal Support: Many Murphy beds feature traditional mattresses and specialized models designed specifically for the bed's structure. These mattresses provide optimal support while preventing pressure points from forming during sleep; as a result, you'll experience uninterrupted sleep every night, allowing you to wake up feeling refreshed and well-rested each morning.
Comfort Level Adjustability: You can customize your comfort level with adjustable bases that come on some Murphy beds—these bases give you the power to change mattress positions so that your body is always in the ideal position in which it can rest and relax best. With this kind of adjustability, you can get the perfect mix of firmness and softness to guarantee a night full of quality sleep.
Ample Storage Space: One of the main advantages to getting a Murphy bed is its spacious storage compartment beneath it — since many urban apartments don't have much room for extra furniture or additional pieces like chests or dressers, having all these stored items beneath your bed makes things easier by saving space without sacrificing comfort or luxury! This means no more clutter gathering dust around your bedroom corners anymore — everything stays neat and tidy without taking away from its aesthetic appeal!
Are Murphy beds expensive?
Murphy beds, also known as wall beds or fold-down beds, can range in price depending on the type and quality of materials used to make them. A more affordable option may cost around $900, while a higher end product could go up to $3000. Generally speaking, Murphy beds are a cost-effective way to maximize limited space by allowing you to switch between a bedroom and living room with ease rather than having two separate spaces for those activities.
Although some assembly-required models come in smaller packages and at lower prices, these often lack key features such as built-in safety locks or sturdier frames. It is crucial to consider the long-term durability of any murphy bed before making your purchase since most have warranties that protect against manufacturing defects but won't protect against damage caused by daily wear and tear over time which can sometimes become an issue if not properly cared for.
Is a Murphy bed as comfortable as a regular bed?
Yes, a Murphy bed can be just as comfortable as a regular bed. Some designs are even more comfortable than traditional beds because they offer additional support for the back and spine. The unique design of the Murphy beds allows them to be transformed into various sleep positions, offering customized support for all body types and sleeping styles.
Murphy beds are typically constructed from quality materials such as hardwood or metal frames, high-density foam padding, and supportive layers of fabric that provide excellent comfort. Additionally, adjustable bases allow users to customize the height and angle of their mattress for maximum relaxation. The use of robust parts extends the life expectancy of these beds beyond 10 years, so you won't have to worry about replacing your mattress anytime soon.
Can Murphy beds be used every day?
Yes, Murphy beds can be used every day. The purpose of a Murphy bed is to provide extra sleeping space in an area where it's impossible to fit a traditional bed frame. They are easily and quickly stowed away when not in use, allowing you to make the most of your living space.
When it comes to using Murphy beds daily, there are several factors you should consider. For starters, they tend not to be as comfortable as traditional beds because they don't have box springs or other support structures which offer more cushioning and bounce when you lie down. Additionally, because these murphy beds don't have permanent structures attached like conventional frames do (or require special conditions for setup), their creation can consume additional time compared with setting up a standard bed frame.
What is the point of a Murphy bed?
At its core, the point of a Murphy bed is to save space in any room of your home. By simply folding it back up into its cabinet form once you are done using it, you can create an additional living area without sacrificing floor space. This makes them ideal for small apartments or homes where extra beds may be needed from time to time but cannot fit into everyday use spaces permanently.
Murphy beds can also help maximize storage potential in any room and offer great convenience for those who need comfortable sleeping accommodations at night but require their entire floor plan during the day – perfect for guests staying over or teenagers who need their own sleeping spot during sleepovers!
Is a Murphy bed expensive?
The cost of a Murphy bed can vary greatly depending on factors such as the brand, materials, size, and additional features. Prices can range from a few hundred dollars for basic models to several thousand dollars for high-end, custom-built options.
How much does it cost to build a Murphy bed?
Building a Murphy bed typically costs between $200 and $800 for materials and hardware, depending on the quality of materials and complexity of the design. This estimate does not include the cost of a mattress or any additional built-in cabinetry, shelves, or lighting.
Is it cheaper to build a Murphy bed?
In many cases, building a Murphy bed can be more cost-effective than purchasing a ready-made one, especially if you have the necessary tools and skills for the project. By building your own bed, you can save on labor costs and customize the design to fit your specific needs and preferences.
How long do Murphy beds last?
The lifespan of a Murphy bed depends on factors such as the quality of materials, construction, usage, and maintenance. With proper care and regular maintenance, a well-built Murphy bed can last for 10-20 years or even longer.
How much is a Murphy bed in the USA?
In the USA, the cost of a Murphy bed can range from $500 for basic models to over $5,000 for high-end, custom-built options. Factors that affect the price include the brand, materials, size, and additional features such as built-in storage or lighting.
Is it cheaper to build a Murphy bed?
As mentioned earlier, building a Murphy bed can often be more cost-effective than purchasing a ready-made one, particularly if you have the necessary tools and skills for the project. By constructing your own bed, you can save on labor costs and tailor the design to your specific needs and preferences.
Experienced Executive Assistant with a demonstrated history of working within the furniture industry. Skilled in furniture styling, visual communication, project management, and proficiency with Adobe Creative Suite. Strong arts and design professional with a (BA) Creative Direction for furniture design focused on Industrial Design from School of the Art Institute of Chicago.